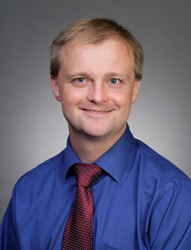 CMPeDS is a mobile device-based application that provides healthcare providers with evidence-based guidelines to manage children who are facing acute illness
KANSAS CITY, Mo. (PRWEB) May 09, 2017
Children's Mercy partnered with custom app developer Engage Mobile Solutions to create CMPeDS: Pediatric Decision Support. This new software helps pediatricians and emergency services professionals diagnose and treat children facing acute illnesses and injuries. Dr. Russell J. McCulloh, an infectious diseases physician from Children's Mercy, will present the app at the Pediatric Academic Societies' (PAS) annual meeting on May 9th 2017.
"CMPeDS, which stands for Children's Mercy Pediatric Decision Support, is a mobile device-based application that provides healthcare providers with evidence-based guidelines to manage children who are facing acute illness," Dr. McCulloh said. "This can include infants with possible severe infections, or children who are experiencing acute injuries, burns, or other acute illnesses."
The application provides pediatricians with a variety of tools for diagnosis and treatment, including checklists for assessing patients' risk of severe illness, step-by-step recommendations and decision trees, and treatment algorithms derived from national recommendations and expert opinions.
The PAS annual meeting, which takes place this year from May 6-9, is the largest pediatric research conference in the world. It provides a forum for the presentation and discussion of cutting-edge research in a variety of pediatric subfields. This year's conference is expected to attract over 7500 attendees, host over 600 scientific sessions, and feature over 125 exhibiting companies.
Video: Dr. McCulloh from Children's Mercy Hospital discussing CMPeDS app and 2017 PAS meeting - https://www.youtube.com/watch?v=ofmAScjOcZU
Dr. McCulloh will present the results from the first several months of CMPeDS's deployment, including the application's number of users, impact on patient care, and user demographics. "The impact of CMPeDS has been really phenomenal," said Dr. McCulloh. "We've had more than 6,000 users download the application… they're not just downloading it but they're using it and really engaging with the application."
Engage Mobile Solutions collaborated with Children's Mercy to develop and refine CMPeDS. "It is a privilege to work with Children's Mercy on help create innovations in pediatric healthcare," said Matthew Barksdale, president of Engage Mobile. "We believe the positive impact of this application could be enormous."
Dr. McCulloh's poster presentation at PAS will take place on Tuesday May 9th in San Francisco, CA. "Healthcare providers feel like they're making better decisions with the help of this application," Dr. McCulloh said. "We are changing practice and that practice is meaningfully improved, which means that we are really positively impacting the lives of children."
About Children's Mercy Kansas City
Founded in 1897, Children's Mercy is one of the nation's top pediatric medical centers. With not-for-profit hospitals in Missouri and Kansas, and numerous specialty clinics in both states, Children's Mercy provides the highest level of care for children from birth through the age of 21. U.S. News & World Report has repeatedly ranked Children's Mercy as one of "America's Best Children's Hospitals." For the fourth time in a row, Children's Mercy has achieved Magnet nursing designation, awarded to fewer than seven percent of all hospitals nationally, for excellence in quality care. Its faculty of more than 700 pediatric subspecialists and researchers across more than 40 subspecialties are actively involved in clinical care, pediatric research, and educating the next generation of pediatric subspecialists. Thanks to generous philanthropic and volunteer support, Children's Mercy provides medical care to every child who passes through its doors, regardless of a family's ability to pay. For more information about Children's Mercy and its research, visit childrensmercy.org.
About Engage Mobile Solutions
Engage Mobile builds custom health and enterprise strategy and software solutions that leverage mobile and cloud technologies to solve unique business challenges. The company was named one of the "Most Promising Enterprise Mobility Companies in the United states" by CIO Review, chosen as one of the "Top Companies in Kansas City with Under 25 Employees" by Thinking Bigger Business Media, and was selected a finalist for the Appy Awards by MediaPost Communications. For more information about Engage Mobile Solutions, visit http://www.engagemobile.com or contact Matthew Barksdale at mbarksdale(at)engagemobile(dot)com.