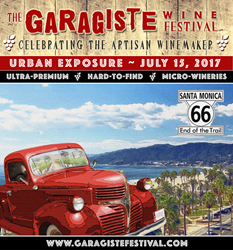 The great thing about our Urban Exposure festival is that Angelenos can discover these hard-to-find wineries, taste hundreds of their wines, and meet the winemakers all under one roof.
Paso Robles, CA (PRWEB) May 09, 2017
Garagiste Events Inc., producers of the renowned Garagiste Festivals, today announced that tickets are now on sale for The Garagiste Festival: Urban Exposure, which returns to Los Angeles County on July 15th, at a stunning new historic location in Santa Monica, just a few blocks from the ocean (and close to the Expo Line).
Celebrating its fourth anniversary in Los Angeles, the festival features 50 micro-production, craft wineries from across California - including Santa Barbara, Santa Ynez and SLO counties; Livermore, Mendocino, Napa, Paso Robles, and Sonoma - and is the only wine event on the Los Angeles calendar to exclusively feature high quality, hand-crafted wines from commercial California 'garagiste*' winemakers.
"The great thing about our Urban Exposure festival is that Angelenos can discover these hard-to-find wineries, taste hundreds of their wines, and meet the winemakers all under one roof -- for less than the cost of gas for a trip to wine country," said Doug Minnick, Co-Founder of The Garagiste Festival. "Besides, the majority of these under-the-radar wineries do not have tasting rooms, are not on "wine country" maps, and are very difficult to find. But we bring them all together for our guests to discover at the Garagiste Festival. There's nothing else like it."
"And, in keeping with our tradition of unique venues with character, this year our attendees have an opportunity to discover hidden wine gems in a hidden architectural gem: a 100+ year-old Historic Landmark Classical Revival building in downtown Santa Monica," continued Minnick. "Take the train, take in the ocean air and taste some of the best wines of your life. What's not to love?"
Dubbed "one of wine's premier events…fun and exuberant…not to be missed" by the Los Angeles Times, the Garagiste Festival is renowned for its 'crazy thrill of discovery,' one-on-one interactions with winemakers, fun 'no-snobs-allowed' atmosphere and interesting and intimate venues.
Time and Place: The Garagiste Wine Festival: Urban Exposure Grand Tasting will take place from 3pm – 6pm on Saturday, July 15th, with the Rare and Reserve tasting at 2pm, all at the ballroom and balcony at 1210 Fourth Street, right in the heart of Santa Monica. The event is a short stroll from the ocean and easily accessible by train via the Expo Line, which stops at Colorado and Fourth Street. And, for your designated driver, there is plentiful parking in the many public parking structures close by.
Winemakers: Among the fifty winemakers already scheduled to pour are Alta Colina Vineyards, Anglim Winery, Ann Albert Wines, Ascension Cellars, Bodega de Edgar/Hug Cellars, Brophy Clark, Burning Bench Winery, Caldera Cuvee, Caliza Winery, Carucci Wines, Chenoweth Wines, Cholame Vineyards, Cloak & Dagger Wines, Coruce Vineyards, Cutruzzola Vineyards, Deno Wine, El Lugar Wines, Enoteca Five, Golden Star Vineyards, Golden Triangle, Halcyon Wines, Hoi Polloi, Hoyt Family Vineyard, JPIII Wines, Kaena Winery, Kaleidos Winery, Loubud Wines, Malibu Ridge Wines, March Wines, MCV Wines, Metrick Wines, Monochrome Wines, Nowell-Smith Wines, Olsen Perri Wines, Pagter Brothers, Penville Wines, Press Gang Cellars, Prizm Winery, Pulchella Winery, Rendarrio, Ryan Cochrane Wines, SLYD Wines, Starfield Vineyards, Tao Winery, The Farm Winery, Theopolis Vineyards, Two Shepherds Wines, and Vinemark Cellars.
Tickets: To preserve an intimate experience with one-on-one interaction with winemakers, tickets are very limited for the Garagiste Festivals and always sell out. Tickets are available at http://garagistefestival.com. For special discounts and updates on Urban Exposure, Taste of Garagiste mini-tastings and other Garagiste Festival events and news, sign up for The Dirt at http://garagistefestival.com/sign-up/, or follow us on Twitter (@GaragisteFest) or Facebook (http://on.fb.me/1rgBC80).
Festival Sponsors: ETS, Glenn Burdette, Bidwell Insurance, Farm Credit, Laffort, Digital Dogma, mWEBB Communications, Travel Paso, Paso Robles Wine Country Alliance. For sponsorship info, email info(at)garagistefestival(dot)com.
About The Garagiste Wine Festivals
The Garagiste Wine Festivals (http://www.garagistefestival.com) are the first and only wine festivals dedicated to the undiscovered and under-recognized American artisan 'garagiste' producers who are making some of the best, most exciting, handcrafted small-lot production wines in the world. Founded by fellow garagistes Stewart McLennan and Douglas Minnick, the Garagiste Festivals are committed to discovering the best and most innovative limited-production winemakers and promoting and showcasing them to a broad audience of discerning wine consumers. In addition to its flagship annual festival in Paso Robles, CA, the Garagiste Festival line-up includes Garagiste Festival: Southern Exposure, featuring Santa Ynez Valley garagistes; the Garagiste Festival: Urban Exposure, in Los Angeles; the Garagiste Festial, Northern Exposure, in the Bay Area; garagiste mini-tastings presented from So Cal to Tahoe; winemaker dinners, a newsletter, garagiste profiles and more.
The festivals were named one of the 'Top Nine Incredible Epicurean Vacations' in the world by ABC News,* "one of the premier wine events of the year," by the LA Times and "Best Festival" by Sunset Magazine's 'Best of the West.' The festivals are produced by Garagiste Events, a non-profit dedicated to furthering the education of future winemakers and those training for employment within the wine industry. Proceeds from the festivals support the Garagiste Festival Scholarship fund of the California Polytechnic State University at San Luis Obispo Wine and Viticulture Department.
*Garagistes (garage-east) is a term originally used in the Bordeaux region of France to denigrate renegade small-lot wine makers, sometimes working in their "garages" (anything considered not a chateau), who refused to follow the "rules," and is now a full-fledged movement responsible for making some of the best wine in the world. The Garagiste Festivals were the first to shine a light on the American garagiste winemaker in 2011. Since then, the festival has helped thousands of consumers discover the remarkable wines of hundreds of true garagistes, who handcraft under 1,500 cases a year and pay close, hands-on attention to every wine they make.
Media Contacts:
mWEBB Communications for The Garagiste Festivals
Crystal Hartwell, crystal(at)mwebbcom(dot)com, 714-987-1016
Melanie Webber, melanie(at)mwebbcom(dot)com, 949-307-1723