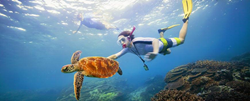 We realised that by partnering with our friends at naïa we'd be able to create something truly special
San Ignacio, Belize (PRWEB) May 11, 2017
A new all-inclusive Belize vacation package that combines jungle lodge and Caribbean seaside luxury in what The Lodge at Chaa Creek calls "the ultimate luxury surf and turf package" has just been opened for bookings.
And, according to Chaa Creek's reservations administrator, the response is already positive.
Offered in conjunction with the naïa Resort and Spa on southern Belize's Placencia Peninsula, the Caribbean Beach and Inland Luxury Adventure puts visitors in the care of two of Belize's most sought after eco-resorts from pick up to drop off at the little country's international airport, Chaa Creek's Elsie Pacheco said.
Ms Pacheco added that the unique vacation package seems to have struck a chord with travellers, as she has already received enquiries and booking requests.
"The fact that the package generated interest so quickly shows that travellers appreciate the sort of total care and luxury we offer. People are very time-sensitive these days, and want to get the most out of every minute of their vacations.
"They also want to be looked after and enjoy beautiful surroundings, luxurious amenities, fine dining and a choice of activities without having to plan and pay for each and every thing. When you combine that with the savings that come from combining the resources of two resorts in one all-inclusive vacation package, you're obviously offering something that travellers are looking for, " Ms Pacheco said.
The Lodge at Chaa Creek, Belize's oldest and most highly awarded eco-resort, is located within a 400-acre private nature reserve in the Maya heartland of western Belize, while the naïa Resort and Spa is a luxurious seaside resort on the sandy Placencia Peninsula on Belize's southern Caribbean coastline.
The Caribbean Beach Inland Luxury Adventure is a seven night all-inclusive Belize vacation package that for one set price covers all accommodations, meals, transfers, activities, tours and even staff gratuities and government taxes at both resorts, Ms Pacheco said, adding that the all-inclusive package offers a rare opportunity to experience two of Belize's most popular destinations in one seamless holiday.
At Chaa Creek guests enjoy eco-luxe accommodation, a full meal plan at the resort's Mariposa restaurant, excursions to the ancient Maya city of Tikal in neighbouring Guatemala, the temple pyramid at Xunantunich and ancient Maya ceremonial caves at Barton Creek, along with tours of the onsite Natural History Centre and butterfly breeding exhibit. Canoeing, swimming, nature walks and other activities are also included in the package.
At naïa Resort and Spa guests are lodged in a studio beachfront house and also enjoy a full meal plan with options to dine at any of the resort's three restaurants. Activities at naïa include guided snorkelling, a tour of Monkey River, swimming and seaside activities. A local commuter flight is included with the package.
"We realised that by partnering with our friends at naïa we'd be able to create something truly special and offer it in the most seamless, affordable manner possible," Ms Pacheco said.
"Often people will come for a holiday on the Caribbean side and then, after hearing about how beautiful the interior of Belize is, with the pristine rainforests, ancient Maya temples and the many things to do, feel they missed out on something.
"By the same token, people booking a weeklong vacation inland will hear about how lovely Belize's Caribbean beaches are, and wish they had more time there.
"This way, visitors have an entire week to experience the best of both without wasting time on transfers and then needing to arrange accommodation, tours and everything else all over again. They can also be sure, given both Chaa Creek's and naïa's reputations and close working relationships, that they'll be enjoying the same level of casual luxury at a fraction of the cost of arranging each and everything themselves or through an overseas travel agency.
"We're very confident that we're offering the best, most seamless and affordable way to experience those things that make Belize so special. From the moment we pick them up until we drop them back off, visitors are in the care of two of Belize's most highly regarded resorts – and our commitment to our guests is something we both take very seriously, Ms Pacheco said.
Ms Pacheco also advised couples who are on a romantic getaway to notify Chaa Creek or their travel agents. "That way, our team of dedicated 'Romantic Adventure Specialists' get involved, and they love to create magic," she said.
The Lodge at Chaa Creek is a multi-award winning eco resort set within a 400-acre private nature reserve along the banks of the Macal River in Belize. It was recognised by National Geographic with first place honours at the 2017 World Legacy Awards held in Berlin.
ENDS