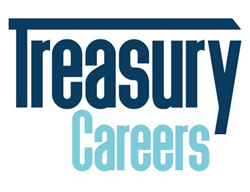 Anyone who knows me knows that I have a passion for Treasury and a strong commitment to serving the Treasury profession. I am nothing short of thrilled to be leading Treasury Careers in its mission to empower Treasury Professionals to own career success.
(PRWEB) May 11, 2017
TreasuryJobs.com is pleased to announce the launch of new online career portal dedicated to Treasury Professionals across the globe.
Treasury Careers (http://www.TreasuryCareers.com) offers webinars, articles, whitepapers, blogs and other relevant resources designed to help individuals accelerate their career in Treasury, including content and training that is essential to developing the soft skills necessary to lead and impact performance across the enterprise.
Our CEO, Ernie Humphrey, Ernie will be speaking at the NE AFP Annual Conference, The Windy Summit, and the New York Cash Exchange conference later this month to fuel the roll out of Treasury Careers to the Treasury community in person.
Visit TreasuryCareers.com to learn how to own your career success in Treasury or to discover opportunities to partner with us in delivering the resources and content to Treasury professionals that impact career success.