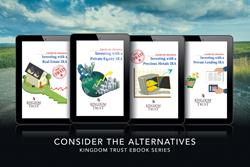 Both introductory and experienced retirement investors benefit from the knowledge base at [Kingdom Trust].
SIOUX FALLS, SD (PRWEB) May 10, 2017
Kingdom Trust, a leader in Self-Directed IRA, alternative asset and institutional custody solutions, recently completed its Consider the Alternatives eBook series. The collection of eBooks illustrates the investment potential of the four main alternative asset classes held on the firm's platform: real estate, precious metals, private lending and private equity.
Each book introduces the world of Self-Directed IRAs to the uninitiated, details investment options related to each asset class, covers prohibited transactions and closes with a lengthy section on common questions. The series is perfect for those entering the alternative investing world for the first time. However, experienced investors will likely also find content relevant to their investing situations. Advisors, attorneys, CPAs and other service providers may also find these educational materials impactful for any of their clients interested in investing in apartment complexes, marketplace lending, promissory notes and so on.
"Both introductory and experienced retirement investors benefit from the knowledge base at our firm," says Kingdom Trust VP of Communications & Education, Jeremy Byars. "By tapping into our wealth of experience, these eBooks anticipate many of the questions new alternative asset investors may have while also serving as a preferred go-to resource for those who've already chosen to diversify with alternatives like real estate and precious metals."
In addition to these and other eBooks and white papers, Kingdom Trust's website features a wide array of educational materials, including a dozen videos, several infographics and a back catalog of email newsletters. The website also houses a blog, updated at least weekly, and other website content to educate investors about Self-Directed IRAs, alternative assets and other custody solutions provided by the firm.
About Kingdom Trust
Kingdom Trust is an independent qualified custodian and a non-depository trust company regulated by the South Dakota Division of Banking. The firm is a leading provider of unique and innovative custody solutions for individual investors, investment sponsors, family offices, advisory firms, broker-dealers and various other investment platforms. Kingdom Trust is a passive, non-discretionary custodian that does not provide, promote, endorse or sell investment products and does not endorse or promote any individual investment advisor or investment sponsor. For more information, please visit KingdomTrust.com.
The content of this press release is provided for educational and informational purposes only.