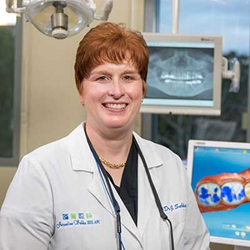 Thousand Oaks, CA (PRWEB) May 09, 2017
Dr. Jacqueline Subka is currently offering a dental implant promotion for those missing teeth in Thousand Oaks, CA. Along with a complimentary consultation and CT scan, patients can receive a discount of $250 on an implant procedure. Dr. Subka is committed to providing patients with skilled, reliable dental solutions to ensure they achieve and maintain proper oral health.
Dental implants are not just beneficial for aesthetic purposes, and their functions go beyond chewing, too. When the crowns of the upper and lower teeth come together, the pressure travels through the roots to the jaw bone, where the stimulation leads to healthy bone growth. Without the tooth, the jaw begins to disintegrate, losing significant density in the first year. Without a strong foundation, surrounding teeth will begin to shift, loosen and even fall out, leading to further tooth loss.
Dental implants can prevent this harmful process. Dr. Subka is skilled at identifying an effective location to place each implant so that it restores bone stimulation and promotes new growth. Likewise, she tailors the shape and fit of the new tooth to provide the correct bite and ideal pressure during chewing. Made of durable materials, these natural-looking replacements are custom designed to last a lifetime. They require the same care as the original teeth, including brushing, flossing and professional cleanings by a dentist to remove bacteria, plaque and tartar.
Anyone in Thousand Oaks, CA, who is missing teeth can visit Dr. Subka's website at http://www.subkadds.com to learn more about the implant procedures and oral health benefits, as well as the free consultation, CT scan and $250 discount. People may call 805-373-1919 for more information about the offer details and restrictions and to schedule an appointment.
About the Doctor
Dr. Jacqueline Subka is general dentist offering personalized dental care for patients in Thousand Oaks, CA since 1999. Dr. Subka received her dental degree from the prestigious University of Southern California School of Dentistry in Los Angeles. Dr. Subka practices gentle dentistry and incorporates state-of-the-art techniques to provide leading, minimally-invasive care. She and her team are committed to continuing education and strive to provide high-quality, personalized dental care to each patient. To learn more about Dr. Subka and the dental services she provides, visit her website at http://www.subkadds.com or call 805-373-1919.