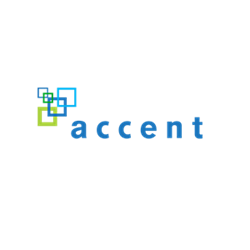 The PowerPoint Plug-in gives users direct, fast access to those critical resources—and then keeps them informed about any updates.
Melbourne, Florida (PRWEB) May 25, 2017
Today Accent, the leader in sales enablement software, announced the release of a plugin that allows users to access their sales and marketing content library or corporate presentation library directly from PowerPoint.
Accent's PowerPoint Plugin provides a number of capabilities. At the highest level, users can quickly access presentations in their content library and download. More powerful capabilities let users browse presentations viewing thumbnails of each slide, search at the slide level—returning individual slides from across the library matching the search criteria, and build custom presentations from slides chosen from multiple presentations.
One of the most interesting capabilities is that the plugin keeps track of any slides or presentations downloaded from the library, and notifies users when updates have been made to the source slides in the library—preventing users from including outdated or inaccurate materials in their presentations. Users can opt to update their presentations to the fresher versions even at the individual slide level. The technology driving the individual slide updating is patent pending.
The Accent plugin gives corporate users the ability to access and share critical presentations and slides across the team. It reduces the need to browse network drives or ask colleagues for the latest version of a slide deck. Redundant effort is also reduced as users are less likely to waste time re-creating materials already available.
"Most organizations have some of their most valuable information and messaging stored in PowerPoint—especially materials used in the sales process." said Accent President and CEO Pete McChrystal. "The PowerPoint Plug-in gives users direct, fast access to those critical resources—and then keeps them informed about any updates."
About Accent
Accent Technologies is the global leader in sales enablement technology. The SaaS company is focused on helping organizations streamline sales execution and increase productivity. Accent's sales enablement software combines traditional sales enablement of delivering the right content at the right time, with sales performance management capabilities that guide sales teams with opportunity prioritization, next step guidance, coaching and micro-training, and content recommendations. Accent products are used by companies in more than 100 countries around the globe. For more information, visit https://accent-technologies.com.