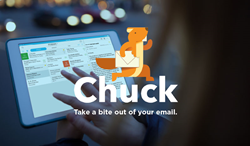 This app is a lifesaver in helping me get my inbox under control.
Baltimore, MD (PRWEB) May 09, 2017
410 Labs today announced the immediate availability of its popular email management tool Chuck for Apple's iPad, iPad Pro, and iPad mini. Chuck, the fastest email cleanup app, has been available for iPhone since January. Chuck helps people keep their email inboxes under control by making it easy to sort through large quantities of messages extremely quickly. Chuck is free in the app store.
"We're excited to let people see what Chuck can do for them on their iPad," said Dave Troy, co-founder and CEO of 410 Labs. "Chuck has already helped people process over 100 million unwanted emails with ease and speed. Chuck groups emails by sender, subject, or time period so that each touch lets you dispose of dozens — or hundreds — of emails at a time." Chuck has been optimized for the various iOS devices, to blend power with simplicity. Chuck now supports Gmail, Outlook, Yahoo!, iCloud, Aol, Office 365, Comcast, and mail.com.
People love Chuck. "Absolutely fantastic application! It's a unique approach to email, yet is so intuitive, and extremely efficient," says user D.P. Another user says, "I was able to take my email box from 1500 or so emails down to around 200 in around 15 minutes. Love it!" Users praise the efficiency with which they can achieve and maintain Inbox Zero.
Chuck builds on the company's success with Mailstrom, a web-based subscription tool that helps people clean up the largest inboxes. With Chuck, the company is bringing its unique approach to email to a much wider audience. "We are excited about the opportunity to serve millions of people on the iOS platform," said Troy.
Baltimore-based 410 Labs develops products that help people maximize productivity by distinguishing signal from noise. Investors in 410 Labs include 500 Startups, True Ventures, The Maryland Venture Fund, Esther Dyson, Jeff Ganek, Tim O'Shaughnessy, Abdur Chowdhury, and Mark Walsh.
Contact: dave(at)410labs(dot)com
410-645-0140
###