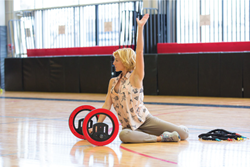 "It is a system that makes every individual an athlete and can even help athletes become better athletes." Brian Abercrombie, Co-Founder.
Hollywood, California (PRWEB) May 10, 2017
Pilates Wheel is concluding a super-$100k Kickstarter campaign raise, where they exceeded their goal by almost 7 times. Over 425 enthusiastic backers took part in the $179 offering to "pre-order" the brand new, 2.0 version of the Pilates Wheel with improved features and functionality. These backers are eager to receive the first complete portable machine Pilates experience, that will allow them to practice over 100 Pilates moves anywhere, anytime.
The Pilates Wheel 2.0 showcases a state of the art design that harnesses rotation, leverage and resistance bands to emulate every machine Pilates movement and progression but in a much smaller area and with a much less bulky apparatus.
The Pilates Wheel 2.0 is built to last with a light yet durable rubber and metal frame and can be stored anywhere, including inside of your gym bag. The Wheel can be used to perform hundreds of machine Pilates moves and alleviates stress on joints for a safe work out.
"It is a system that makes every individual an athlete and can even help athletes become better athletes," says co-founder Brian Abercrombie, referring to his training system P.A.S.E (power, agility, strength, endurance) which motivated Pilates Wheel's strength programs. He, along with co-founder Kristin Anderson have over 25 years of experience working with top athletes and high profile actors to achieve total wellness and longevity. They set out to help individuals at any level of Pilates experience and athletic ambition to take a long term approach to health.
Pilates Wheel 2.0 cuts down on costly gym memberships and machine Pilates instructors, by offering a less expensive and more convenient alternative that is just as comprehensive, with Kristin Anderson's instructional videos to coach you through the movements.
The Pilates Wheel 2.0's system includes:

1 Pilates Wheel
5 Resistance Bands
2 Handles
2 Foot Loops
8 thoroughly instructed Pilates Routines that range from 12-60 minutes, including fundamentals, Centre of the Room level 1 and 2, and FOCUS routines to target specific areas
Pilates Wheel 2.0 is the only home workout system that includes all of these benefits and now, with a successful Kickstarter campaign in their wake, they are ready to launch their shiny new product to the fitness community!
Media wishing to interview Pilates Wheel personnel should contact brian(at)enginefitness.com or call 1-323-350-5192