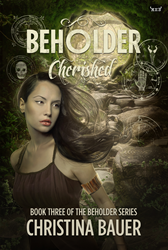 Newton, MA (PRWEB) May 11, 2017
Monster House Books LLC (MHB) today announced that reviewers may request an electronic galley of Cherished, book three in its successful Beholder series. With hundreds of ratings across Goodreads and major retailers, the Beholder series has earned praise for its depiction of Elea, a Necromancer mage who must battle evil magick as well as her own impetuous nature. To celebrate the Cherished launch on May 30th, MHB is also offering book one, Cursed, at no charge for a limited time as well as releasing a new book trailer for the entire Beholder series.
"Fantasy is often criticized for taking a 'he' leading character and simply adding an 's,'" says Kelly Peterson, Director, INscribe Digital, a division of Independent Publishers Group (IPG). "We're thrilled to distribute the Beholder series because Christina has such a firm grip on what makes for the heroine's journey. Her characters remind me of what Hermione from Harry Potter might do if given a solo series of novels."
MORE PRAISE FOR THE BEHOLDER SERIES
"Bauer has a way of really pulling her readers in with her feisty female characters. Elea has a moral compass that she breaks for no one." – Hetal, Goodreads
"Elea is such a powerful character, both in magic and personality. I could definitely get behind her and her ideals. The author not only created a marvelous world but also did a good job at explaining it." – Arec Rain, Rainy Thursdays Blog
"Another kick-ass novel! Trust Christina Bauer to deliver a super bad-ass heroine and majorly page-turning plot line. Cursed is definitely a must read for you guys who love PNR or UF." – Four Eyed Cat Reviews
NEW BOOK TRAILER AND LIMITED-TIME OFFER
To celebrate the release of Cherished, MHB is also offering book one, Cursed, at no charge for a limited time. In addition, MHB is launching a new book trailer for the entire Beholder series. This is the second trailer created for MHB by European digital artist Sasha.
"We took a cinematic approach to the trailer," says Sasha. "The combination of medieval magic and modern politics is central to the series, so when animating the covers and crafting the music, I was particularly inspired by Game of Thrones. I'm excited to share this second collaboration with MHB."
The first book trailer Sasha created was for the best-selling Angelbound series and may be seen here on YouTube.
ABOUT CHERISHED
For Elea, there's never been a better time to turn away from witch life. The Tsar is in exile. The Vicomte is dead. And Rowan? Falling for him only broke her heart. Instead of casting spells, Elea spends her days running Braddock Farm and enjoying the flirtations of the very handsome and non-magical Philippe. Everything is going perfectly, except for one problem.
Someone's trying to kill her.
Shujaa is a Changed One, a Creation Caster mage whose mutated form makes him invincible in battle. Now that the Tsar and Vicomte are gone, Shujaa wants to rise and rule. To do so, he must eliminate all those powerful enough to oppose him, and Elea is top on his list. Anyone who offers her aid quickly ends up dead.
In the end, there's only one person who can keep Elea safe while helping her defeat Shujaa: Rowan. Like it or not, Elea must team up with her old love. With Philippe along for the ride, Elea plans to team with Rowan without losing her heart this time. But that's when all her plans fall apart…
ABOUT THE AUTHOR
Christina Bauer knows how to tell stories about kick-ass women. In her best selling Angelbound series, the heroine is a part-demon girl who loves to fight in Purgatory's Arena and falls in love with a part-angel prince. This young adult best seller has driven more than 500,000 ebook downloads and 9,000 reviews on Goodreads and retailers. Bauer has also told the story of the Women's March on Washington by leading PR efforts for the Massachusetts Chapter. Her pre-event press release—the only one sent out on a major wire service—resulted in more than 19,000 global impressions and redistribution by over 350 different media entities including the Associated Press.
A native of Buffalo NY, Christina graduated from Syracuse University's Newhouse School with BA's in English along with Television, Radio, and Film Production. She lives in Newton, MA with her husband, son, and semi-insane golden retriever, Ruby.
ABOUT MONSTER HOUSE BOOKS LLC
Monster House Books LLC publishes kick-ass fiction for sci-fi, fantasy, urban fantasy, and paranormal romance readers. Like strong heroines, diverse voices and unique storylines? Welcome home.
For more information, visit http://www.MonsterHouseBooks.com.
ABOUT INDEPENDENT PUBLISHERS GROUP
Headquartered in Chicago IL, IPG was the first organization specifically created for the purpose of marketing titles from independent presses to the book trade. With consistent growth year-over-year, IPG's success has come from supporting and encouraging the growth of its client publishers in the United States and worldwide. In 2016, IPG purchased San Francisco-based INscribe Digital, a leading edge publishing technology company, which is helping to position IPG as a best in class technology solution for publishers large and small.
CONTACT INFORMATION
Arely Zimmermann
AZimmermann(at)MonsterHouseBooks(dot)com
Monster House Books LLC
# # #