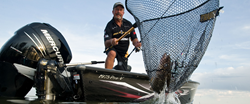 "Smart anglers will travel a few extra miles for the exceptional fishing and the great amenities of Grand Rapids and surrounding communities" - Tom Neustrom, Professional Guide
GRAND RAPIDS, Minn. (PRWEB) May 09, 2017
With the 2017 Minnesota Fishing Opener just days away, one of the state's top pro anglers is sharing tips for a great opener or any day during the upcoming season. Tom Neustrom has more than 35 years of experience as a top fishing guide in northern Minnesota. Inducted into the Minnesota Fishing Hall of Fame and the National Freshwater Fishing Hall of Fame, Neustrom has shared his knowledge with thousands of anglers as a guide and through leading fishing magazines and top televised fishing shows.
Today Neustrom is sharing some of his best tips for northern Minnesota fishing getaways, including some of the best lakes for specific types of fish and overall on-the-water experiences.
Neustrom's Top 5 Fishing Lakes in Northern Minn.
While legendary lake names such as Gull, Mille Lacs, and Upper or Lower Whitefish are often top of mind, Neustrom recommends some lesser traveled lakes for exceptional walleye, muskie, pike, panfish and other popular species. Neustrom's Top 5 include:
1. Lake Winnibigoshish (aka Lake Winnie) near the headwaters of the Mississippi River: Neustrom regards Winnie as one of the best places anywhere for walleye. He notes that connecting headwater lakes are also excellent for walleye, pike and panfish.
2. Bowstring Lake near Lake Winnie: Another exceptional lake for all around fishing for a variety of species along with secluded resort options in the area.
3. Deer Lake north of Cohasset: Neustrom credits Deer Lake's extraordinary water clarity for multi-species fishing as well as other adventures, such as scuba diving.
4. Big Split Hand Lake north of Hill City: If anglers crave great crappie and walleye, Tom says this tucked away lake provides excellent experiences for expert and novice anglers alike.
5. Pokegama Lake/Wendigo Arm Bay in Grand Rapids: For those seeking an all-around experience, including great fishing (bass, pike, trout and others), water sports and family activities, Neustrom rounds out his top 5 list with this 6,000+ acre Minnesota gem.
"Itasca County has 1,007 lakes with healthy fish populations, exceptional wildlife management practices and easy boat access on many bodies of water. Smart anglers will travel a few extra miles for the exceptional fishing and the great amenities of Grand Rapids and surrounding communities," Neustrom noted. "Our area draws top national fishing tournaments, because we offer such diversified species. We're No. 1 for walleye, but have abundant world-class bass, muskie and countless other species throughout the area's lakes."
Neustrom also credits the area with remote fishing opportunities on lakes near Bigfork and Effie. He recommends contacting a pro guide for information about hidden, private experiences on area lakes. "No need to go to Canada when you can fish on amazing lakes and sometimes avoid seeing other anglers all day long," Neustrom added.
Information about guide opportunities can be found at http://www.mnfishingconnections.com and travel information at http://www.visitgrandrapids.com.
About Visit Grand Rapids 
Visit Grand Rapids is the official destination marketing organization for the Grand Rapids, Minnesota, area. Visit Grand Rapids was founded in 1983 as a 501(c)(6) non-profit business association, with the objective to promote the Grand Rapids area as a destination for conferences, conventions, events, group tours and leisure travelers, thereby enhancing the economic growth of the area through travel and tourism. Visit Grand Rapids' mission is to generate a positive economic impact through travel and tourism. For more information, visit http://www.visitgrandrapids.com.