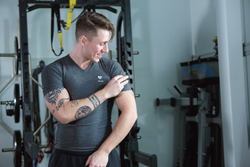 "HeartIn is the first chance for amateurs to uncover the more elusive insights of their performance and use them to train and progress like pros." - Co-Founder, Alex Vynogradov
Miami, Florida (PRWEB) May 10, 2017
To bring their revolutionary technology to the world HeartIn is in the midst of an already successful crowdfunding campaign. Passing their fundraising goal quickly, HeartIn is already well on its way to launching their unique fitness tracking technology to the mainstream.
The "HeartIn System" contains 2 parts. The first is a premium quality but unassuming t-shirt and/or sports bra and the second is a clip-on tracking unit that completes the circuitry sown right into the fabric of the clothing. Together this system can track real ECG (EKG) data. ECG data acquisition for athletic performance purposes has traditionally only been affordable to pro athletes given the expensive equipment it usually entails. HeartIn's surprisingly subtle and integrated solution is designed to level the technological playing field for amateur athletes everywhere.
HeartIn's tracking stick connects via Bluetooth to its companion mobile app where some real data-crunching magic happens. The app is able to analyze the raw incoming ECG signal and pick up on critical athletic information such as aerobic load, fatigue levels and even warn the user if they are overdoing it. HeartIn can also be worn when the user is not participating in sport to analyze the effectiveness of their recovery and let them know optimal times to hit the gym again.
"HeartIn is the first chance for amateurs to uncover the more elusive insights of their performance and use them to train and progress like pros," says HeartIn Co-Founder Alex Vynogradov. "We made absolutely certain that the quality of our equipment and signal were the highest possible quality. We are very proud of the functionality we have been able to achieve with such a sleek gadget."
The HeartIn system is made up of:

1 Premium, circuit infused t-shirt or sports bra
1 ECG tracking clip
Access to professional insights with the HeartIn App
HeartIn is poised to disrupt the fitness-tracking industry which currently filled with devices with less functionality or less aesthetic appeal. A successful Kickstarter campaign in the bag, HeartIn is ready to take on the next leg of their journey in stride.
Media wishing to interview HeartIn personnel should contact Alex at support(at)heartin(dot)net