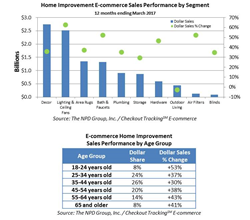 "Without a doubt, e-commerce will continue to gain importance for the home improvement industry," said Joe Derochowski, executive director and home industry analyst at NPD.
Port Washington, New York (PRWEB) May 09, 2017
Online sales of home improvement products that span everything from plumbing and hardware to storage and décor, have grown 41 percent in the 12 months ending March 2017, reports The NPD Group, a leading global information company. The e-commerce home improvement market reached $10.9 billion in sales for the year, according to NPD's receipt mining service, Checkout TrackingSM.
With the exception of outdoor living, online sales of each major segment of the home improvement market grew in the 12 months ending March 2017, and almost every category tracked within those segments experienced double-digit online dollar growth. The fastest growing categories last year were plumbing pipes and fittings, light bulbs, and ceiling fans, and the categories with the largest online sales gains were home décor, light fixtures and lamps, and area rugs.
"The pace at which e-commerce is gaining acceptance among home improvement consumers emphasizes the need to understand how consumers are utilizing online and in-store shopping options, and how to make them work together," said Joe Derochowski, executive director and home industry analyst at NPD. "Marketers can capture the replenishment of commodity products, like light bulbs and air filters, by offering online convenience, but there are also opportunities to benefit from consumer showrooming for bigger ticket items, like bathtubs and vanities, with the in-store experience."
NPD's Checkout Tracking E-commerce information illustrates that the online sales growth reaches across a variety of home improvement categories and consumer age groups. Millennials are a driving force behind this online growth, with the younger segment growing at the fastest pace, and the older portion accounting for the largest share of dollar gains. However, Gen X and the Baby Boomer generation are also very active in online home improvement spending, representing almost two-thirds of industry sales for the year.
"Without a doubt, e-commerce will continue to gain importance for the home improvement industry," says Derochowski. "The current demographic changes are driving increases in the number of people entering life stages that are important to home improvement categories, from first-time home-buyers to downsizing empty-nesters, the industry is in a prime position to help consumers today and develop new shopping habits that will last for decades to come."
Source: The NPD Group, Inc. / Checkout TrackingSM E-commerce
About The NPD Group, Inc.
The NPD Group provides market information and business solutions that drive better decision-making and better results. The world's leading brands rely on us to help them get the right products in the right places for the right people. Practice areas include apparel, appliances, automotive, beauty, consumer electronics, diamonds, e-commerce, entertainment, fashion accessories, food consumption, foodservice, footwear, home, mobile, office supplies, retail, sports, technology, toys, video games, and watches / jewelry. For more information, visit npd.com and npdgroupblog.com. Follow us on Twitter: @npdgroup
Checkout TrackingSM provides detailed information on consumer buying behavior, based on receipts for both online and brick-and-mortar retail purchases from the same consumers over time. Checkout Tracking delivers precise category, brand, and item-level purchase detail linked to buyers and their demographics, useful for analyzing competitive market baskets and identifying purchase patterns. Information is collected from more than 50,000 consumers from NPD's receipt-harvesting mobile phone app and the scanning of more than 4 million in-boxes for e-receipts through Slice Intelligence.