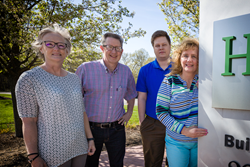 We are delighted to welcome Joy, Robert and Mitzie to our OSEG board. Their new ideas will help us continue to build and nurture a strong and engaged community of OnBase customers
Cleveland (PRWEB) May 09, 2017
Hyland announced today the addition of three new members elected to its OnBase Solutions Expert Group (OSEG), committed to shaping the future of departmental solutions that benefit all industries, such as Accounting and Finance, Human Resources and Case Management.
Hyland's OSEG user group is designed to bring together users to share technology best practices, lessons learned and emerging trends. Joining Hyland's OSEG group for the 2017-2018 term includes:

Joy Cipolloni, OnBase administrator at Emerson Commercial and Residential Solutions, was elected as the OSEG vice president
Robert Angus, programmer and OnBase solutions architect at Winsupply Inc., was elected as the OSEG director of enhancements
Mitzie O'Rourke, OnBase admin and lead developer at Baptist Health, was elected as the OSEG director of education
The new board members join Hyland's existing OSEG board members and thought leaders, including OSEG President Bill Smith, e-business specialist at The Timken Company.
"We are delighted to welcome Joy, Robert and Mitzie to our OSEG board. Their new ideas will help us continue to build and nurture a strong and engaged community of OnBase customers," said Danielle Simer, solution marketing manager at Hyland.
To learn more about Hyland's technology suite for back-office solutions, visit OnBase.com.
About Hyland
Hyland is a leader in providing software solutions for managing content, processes and cases for organizations across the globe. For over 25 years, Hyland has enabled more than 15,500 organizations to digitalize their workplaces and fundamentally transform their operations. Named one of Fortune's Best Companies to Work For® since 2014, Hyland is widely known as both a great company to work for and a great company to do business with.
About OnBase by Hyland
OnBase is a single enterprise information platform for managing content, processes and cases deployed via mobile, on-premises or in the Hyland Cloud. Providing enterprise content management (ECM), case management, business process management (BPM), records management and capture all on a single platform, OnBase transforms organizations around the globe by empowering them to become more agile, efficient and effective. Enterprise cloud-based sharing capability for the OnBase platform is available with our complementary offering, ShareBase by Hyland. To learn more about how more than 15,500 organizations are digitizing their workplaces to transform their business operations, visit OnBase.com.