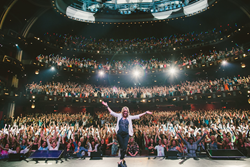 It's about rising up even in challenging times, building lasting friendships and encouraging each other on this journey of Life".... Holly Wagner
Hollywood Ca (PRWEB) May 11, 2017
Holly Wagner, bestselling author, Co-founder and Co-lead pastor of OASIS LA http://www.oasisla.org and the founder of SHE RISES http://www.sherises.com announced today that SHE RISES conference will take place at the iconic Dolby Theatre, in Hollywood on June 23rd-24th 2017.
Last year's event was SOLD OUT and made history as the first Christian event ever to be held in the Dolby Theatre, where the Academy Awards are held every year. This conference will make history again as the only "Christian" conference ever held at the Dolby in the heart of Hollywood.
This event will sell out fast; tickets are now on sale at http://www.sherises.com or by calling 1-888-730-2049
Holly will again host this year's conference and will welcome as her special guests best selling authors and international speakers SARAH JAKES ROBERTS (daughter of Mega pastor, film producer Bishop T.D.Jakes) , Judah and Chelsea Smith, Lisa Bevere and performing will be Mosiac MSC, and the OASIS worship team.
The SHE RISES conference is a gathering of women from all different backgrounds united in a love for God and a desire to change the world. Wagner said. "SHE RISES conference is about equipping you to make a difference in your world. It's about rising up even in challenging times, building lasting friendships and encouraging each other on this journey of Life."
The Conference will also give money to 4 non-profits through SHE LOVES worldwide including: Clean Water, Generosity.org, Mothers in Uganda, Watoto, Hope &Restoration in Young Women, Anti- Human Trafficking, Mercy Multiplied, Dream Center, these organizations are here in the U.S. and around the world.
Holly Wagner appears on Television worldwide on a regular basis.
ABOUT HOLLY WAGNER
Holly and her husband, Philip, co-pastor The Oasis Church in Los Angeles- a growing, relevant, multi-cultural, multi-generational church. She is the Founder of God Chicks, She Rises and She Loves. Holly and Philip have taught many relationship seminars around the world and are committed to healthy marriages. She has written several books including: "GodChicks", "Daily Steps for GodChicks", "Warrior Chicks", and "Love Works". Holly Wagner will release her new book this summer "Find Your Brave".
ABOUT in:ciite Live!- in:ciite media is a growing live event, simulcast, music, and film company where creativity, innovation, impacting technology, and experiences merge to create the opportunity for life changing moments. http://www.inciite.com
FOLLOW SHE RISES ON SOCIAL MEDIA @sherisesla and @hollywagnerla
ALL MEDIA IS INVITED TO COVER THIS EVENT, ALL MEDIA MUST BE CREDENTIALED AND APPROVED BY: NEAL PUBLIC RELATIONS - 323-366-2796 or prstarus2000(at)yahoo(dot)com. Holly Wagner is available for interviews starting now thru June 23rd & 24th