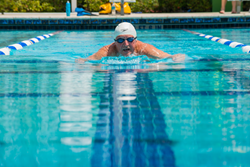 Jacksonville, Fla. (PRWEB) May 09, 2017
With each lap Jack Ratkovic swims in the pool, the stroke he had almost two years ago fades from memory.
The retired residential developer walked down the stairs of his St. Augustine condo in August 2015 and said he felt groggy and off balance. He tried to say, 'Good morning" to his wife, Alison, who was downstairs, and his words were slurred and his face drooping. His wife knew something was wrong.
She insisted on calling 911 despite his reluctancy, and Ratkovic was rushed to Flagler Hospital and then taken by helicopter to Baptist Medical Center Jacksonville, which serves as the regional center for advanced treatment of strokes, aneurysms and other brain conditions.
Ratkovic was having an ischemic stroke, which occurs from an obstruction within a blood vessel that supplies blood to the brain.
Neurovascular surgeon Ricardo Hanel, MD, PhD, director of the Baptist Neurological Institute, used a stent retriever device and a stent to reopen Ratkovic's blood vessel. In a minimally invasive procedure, Dr. Hanel inserted a microcatheter into an artery in Ratkovic's groin and then threaded it through his body and up to his brain.
Ratkovic never let the stroke define him or slow him down despite months of speech therapy to get his words back. He stayed determined to return strength to his body and mind.
The hard work has paid off as Ratkovic, now 76, heads to the National Senior Games in June after placing in three breast stroke categories in the Florida Senior Games in December.
"I feel I'm just as good or even faster after the stroke than I was before," said Ratkovic, who has been swimming competitively for six years. "I was determined that I wanted to compete again and I wanted to be better."
Dr. Hanel said he's amazed to see Ratkovic's transformation since the stroke left him unable to express himself.
"Now he is an inspiration to others to exercise and to be healthy," Dr. Hanel said.
Unfortunately, unlike Ratkovic, about 80 percent of people who have a stroke don't seek care in time, which reduces their chances of recovery.
"As soon as you recognize symptoms, call 911. Don't wait to see if the symptoms will go away," said Wendy Camp, ARNP, MSN, director of the Stroke and Cerebrovascular Program at Baptist Health. "The longer you wait, the more tissue is damaged and the chances of a good recovery can be diminished."
A lifeguard in his 20s and a lifelong runner, Ratkovic swam competitively in the 2013 regionals, state and nationals. He was anxious to get out of the hospital and back in the pool.
He started working out in the gym about 45 days after the stroke while learning how to pronounce his words again. He returned to competitive swimming about a year later. He now trains four to five days a week in public pools and the YMCA in St. Augustine.
"I just like competition. If you can't compete, what will you do, be a couch potato?" he laughed. "Dr. Hanel told me after the surgery that I could be just like I was and even better. I told him I felt the same way. I didn't want to feel sorry for myself."
He tells his competitors, "If you want to beat me, you better get ready. I'll shake your hand and make you dinner, but when we get next to each other, I want to beat you. That's just the way I am."
Ratkovic admits his vocabulary is still not like it was before the stroke, but he's not embarrassed and he's thankful his wife took quick action. When he speaks before his condo association, he tells them he may fumble some words, but not to worry about it.
"I'm not going to hide from it or be concerned about it. I just want to keep pushing forward," he said.
Now part of his mission is to encourage others who have had a stroke not to give up.
"If I can help people realize they can go back to where they were and maybe even better, it's all worth it," he said. "If just maybe one or 50 or 1,000 people said I can do that, then that is good enough."
For more information on stroke services at Baptist and Lyerly Neurosurgery, go to lyerlyneuro.com.
###
About Baptist Health
Baptist Health is a faith-based, mission-driven system in Northeast Florida comprised of Baptist Medical Center Jacksonville; Baptist Medical Center Beaches; Baptist Medical Center Nassau; Baptist Medical Center South; Baptist Clay Medical Campus and Wolfson Children's Hospital – the region's only children's hospital. All Baptist Health hospitals, along with Baptist Home Health Care, have achieved Magnet™ status for excellence in patient care. Baptist Health is part of Coastal Community Health, a regional affiliation between Baptist Health, Flagler Hospital and Southeast Georgia Health System forming a highly integrated hospital network focused on significant initiatives designed to enhance the quality and value of care provided to our contiguous communities. Baptist Health has the area's only dedicated heart hospital; orthopedic institute; women's services; neurological institute, including comprehensive neurosurgical services, a comprehensive stroke center and three primary stroke centers; a Bariatric Center of Excellence; a full range of psychology and psychiatry services; urgent care services; and primary and specialty care physicians' offices throughout Northeast Florida. Baptist MD Anderson Cancer Center is a regional destination for multidisciplinary cancer care which is clinically integrated with MD Anderson Cancer Center, the internationally renowned cancer treatment and research institution in Houston. For more details, visit baptistjax.com.