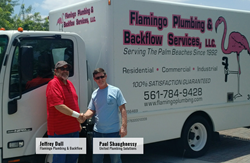 Our commitment to quality workmanship and our 37 years plus in the plumbing industry ensures that moving forward, all of our customers will continue to experience excellent service!
West Palm Beach, FL (PRWEB) May 17, 2017
Effective May 15th, 2017 United Plumbing Solutions is proud to announce that it has acquired Flamingo Plumbing & Backflow Services LLC. Paul Shaughnessy (UPS's President) will become the President of the new combined entity, that will retain the better known Flamingo Plumbing & Backflow Services' business name. Jeffrey K. Dull, the former President of Flamingo will remain involved in an advisory capacity. They will continue to service Palm Beach, Martin, Broward & St. Lucie counties.
About the firms…
Since 2010, United Plumbing Solutions was a "one-stop shop" experience to homeowners and commercial businesses. Their licensed and insured professionals brought years of experience and quality workmanship to every project, from maintenance and replacement plumbing, such as water heater upgrades, to total kitchen and bath renovations and additions. Over the years homeowners counted on United Plumbing Solutions for reliable, professional advice on all types of plumbing and drain cleaning services.
Founded in 1992, Flamingo Plumbing & Backflow Services, LLC worked hard to provide outstanding customer-focused plumbing services. The company operates to serve clients, neighbors and friends with integrity, fairness and quality craftsmanship, offering value to clients. That is what sets Flamingo Plumbing & Backflow Services, LLC apart from others in the industry. With these ideas in practice, Flamingo Plumbing & Backflow Services, LLC offers full-service plumbing to thousands of residential and commercial customers. Many of these customers have been loyal repeat customers since the company's inception.
Both parties are very excited to announce the acquisition and share with their valued customers the benefits of a larger, stronger firm in the future. The combination of the two firms will continue to be a one-stop shop for everything plumbing; offering commercial and residential plumbing services, new construction plumbing, backflow services, sewer & drain cleanup, grease trap maintenance, fire protection, lift station, leak detection and more. They will continue to work harder for their clients and always seek to ask "How can they make you smile today?"