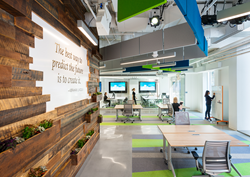 We were privileged to work with exceptional clients who, like us, were eager to ask hard questions, push boundaries, and ultimately create spaces that inspire by looking to the future of the built environment
Washington, DC (PRWEB) May 11, 2017
The Mid-Atlantic Chapter of the International Interior Design Association (IIDA MAC) recognized two of OTJ Architects' projects at its yearly Premiere awards gala, held in downtown Washington D.C. For 22 consecutive years, this prestigious competition, judged by a team of lauded design professionals from around the country, has honored the best interior projects submitted by Washington, Northern Virginia, Baltimore, and Annapolis firms.
OTJ's design for the Booz Allen Hamilton Innovation Center received the Award of Honor for projects under 10,000 square feet. Located in Washington, D.C., this free-flowing collaborative space brings together staff, clients, partners, and the community to inspire each other, grow their networks, and devise ground-breaking technology solutions. Booz Allen's Senior Executive Vice President and Chief Administrative Officer, Joe Mahaffee remarked: "We needed the right environment to get the best out of our talent. The Center's open, adaptable space expresses our century-old spirit of teamwork, collaboration, and entrepreneurialism in a way we've never done before." Innovators have taken note: the Center's successful design is drawing the interest of leading organizations nationwide eager to leverage the built environment's ability to connect tech forerunners and spark creativity.
Entertainment Software Association (ESA) was also recognized at the gala with an Award of Merit in the 10,000 - 30,000 square foot category. This technologically advanced showcase invites visitors and staff alike to "press the power button" and enter into a brand-rich realm that celebrates the cultural importance of video games from Pacman to today's latest advances in virtual reality. Rich Taylor, ESA's Senior Vice President, Communications & Industry Affairs, remarked: "ESA's new office provides incredible experiences for interaction and engagement. From dedicated creative video game spaces to break-out rooms for collaboration, we now have a showcase that represents the innovative and energetic video game industry."
Lance Jaccard, OTJ's Managing Partner, remarked: "We're thrilled to see our designs recognized by our industry peers. We were privileged to work with exceptional clients who, like us, were eager to ask hard questions, push boundaries, and ultimately create spaces that inspire by looking to the future of the built environment."
This year's IIDA MAC awards competition drew an exceptional number of superlative entries with projects ranging from less than 10,000 to over 100,000 square feet. OTJ is proud to have received two of the ten prizes awarded.
About OTJ Architects
OTJ Architects is a well-respected national interior architecture design firm that has successfully completed thousands of projects throughout the country. Founded in 1990, OTJ is comprised of six studios headquartered in Washington, DC, with more than 85 architects and designers, many of whom are LEED and WELL Accredited Professionals. We are workplace designers who focus on you – your goals and your opportunities – to create a unique vision of your future work environment. Our goal is to constantly challenge ourselves to design better, smarter workplaces that allow people to work strategically, flexibly and with a better quality of life. For more information, please visit http://www.otj.com.