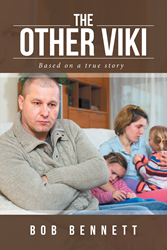 PHOENIX (PRWEB) May 15, 2017
A Phoenix-based author has just released a book which details the true account of one twin separated at birth as she journeys through life.
"The Other Viki," by author Bob Bennett, follows 'Viki,' as she's separated from her parents and twin and develops a life of her own. Viki was adopted by Harald, who became her father but, in all actuality, is her uncle. This book tells the story of Viki, as she's raised by her father and journeys through life.
Bennett was inspired to share Viki's story after hearing the entire story from Viki herself. Bennett met Viki through Mabel, his wife, who was under the care of Viki in the group home Viki owned and operated. "She gave me enough information and enthusiasm, I decided to go for it," said Bennett. "It's an interesting story and it covers a long history and political living in one country as compared to another country."
One reviewer wrote, "An epic, yet intimate tale of family life, 'The Other Viki' chronicles an intrepid Romanian family fighting for survival, success, and love across three generations and two continents, against a sometimes-brutal backdrop of historical events."
A compelling true story of a twin separated at birth, "The Other Viki" is the perfect summer read for anyone looking for a heartfelt true story.
"The Other Viki"
By Bob Bennett
ISBN: 978-1-5246-7021-4 (softcover); 978-1-5246-7022-1 (hardcover); 978-1-5246-7020-7 (electronic)
Available at AuthorHouse Bookstore, Amazon and Barnes & Noble
About the author
Bob Bennett was born in the village of Junior, W.V., but grew up in a Bobtown, P.A., a small coal mining community. Following graduation from high school, Bob joined the U.S. Navy and became a Third-Class Bugle Master. After the war, Bob attended West Virginia and graduated in 1948. He was employed by the Bell Telephone System, where he was employed for nearly 40 years, including the one year he was assigned to work in Iran. Bennett retired in 1985 and currently lives in Sun City, Ariz. with his wife, Marian.
###
Review Copies & Interview Requests:
LAVIDGE – Phoenix
Chris Peña
480-998-2600 x 519
cpena(at)lavidge(dot)com
General Inquiries:
LAVIDGE – Phoenix
Bryan Beach
480-998-2600 x 510
bbeach(at)lavidge(dot)com