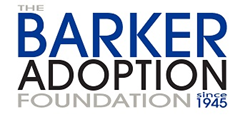 You are never too old to need a family.
Washington, DC (PRWEB) May 11, 2017
Project wait No Longer (PWNL), the older child adoption program at The Barker Adoption Foundation will recognize National Foster Care Month in May. With over 400,000 children currently in U.S. foster care and over 100,000 of those children awaiting a permanent adoptive family, PWNL is working to spread awareness by attending several events and sharing family stories on social media. See Project Wait No Longer and learn more about older child adoption at any of these events throughout the month of May:
May 13th - Mantua Elementary 5k Run and Exhibitor Fair
May 16th - Mt. Zion Baptist Church Adoption and Foster Care Expo
May 17th & 18th - Inter-American Development Bank Exhibitor Fair
May 20th - Women Empower Expo
May 22nd - Office of Naval Research Exhibitor Fair
May 23rd - Department of Justice Wellness Fair
May 25th - American University Wellness Fair
To learn more about any of these events or to learn if older child adoption is right for your family, visit our website, here: http://www.barkeradoptionfoundation.org or email PWNL Outreach Specialist, Alex Williams at awilliams(at)barkerfoundation(dot)org.