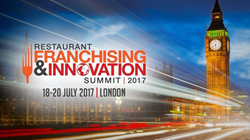 Our agenda is packed full of c-level operators, who are still in the trenches running their businesses.
LOUISVILLE, KY (PRWEB) May 10, 2017
The future of robots in the kitchen, controlling the supply chain, knowing when, where and how to grow and exploring industry trends are just a few topics restaurant executives from around the world will discuss at the Restaurant Franchising & Innovation Summit, being held 18-20 July in London.
"Our agenda is packed full of c-level operators, who are still in the trenches running their businesses," said Cherryh Cansler, director of editorial at Networld Media Group, the company producing the show. "I am always in awe of how execs at our events are willing to share their successes and failures with attendees to simply help them grow their businesses."
New additions to the speaking lineup include:

John Aizlewood, market growth officer, Pizza Hut Europe, who will talk about how Pizza Hut is growing its European presence.
Daniel Spinath, founder & managing director, Crepeaffaire, who will chat about how fast casuals are changing the industry for all restaurant segments.
Stuart Fitzgerald, CFO and co-founder, Freshii GB, who will talk about how Freshii manages its supply chain.
John Miller, founder and CEO, CaliBurger, who will discuss the future of robotics in the industry and how Caliburger uses a burger-flipping robot.
Steven Novick, founder, Farmstand, who will share how the London-based chain solely relies on UK-based suppliers to provide complete transparency and source high-quality ingredients.
John Vincent, founder and CEO, LEON.
Carl Howard, president and CEO, Fazoli's.
Justin Livingston, VP of development, Coyote Ugly Saloon
Carl Reader, author of the Franchising Handbook and The Startup Coach.
To view the entire speaker lineup, click here. The complete agenda is here.
Registration is now open and Early Bird pricing is in effect until 16 June.
About Networld Media Group
Founded in 2000, Networld Media Group is a leading business-to-business (B2B) media communications company specializing in digital media, associations and events in the mobile, self-service, digital signage, retail, food service and financial services industries. Online properties include ATMmarketplace.com, BlockchainTechNews.com, DigitalSignageToday.com, FastCasual.com, FoodTruckOperator.com, KioskMarketplace.com, MobilePaymentsToday.com, PizzaMarketplace.com,QSRweb.com, RetailCustomerExperience.com and ChurchCentral.com. Networld event properties include the Fast Casual Executive Summit, CONNECT: The Mobile CX Summit, Interactive Customer Experience Summit, Bank Customer Experience Summit and the Restaurant Franchising & Innovation Summit. Networld also operates the ICX Association. Its newest offering, Networld Press, provides clients with an all-in-one website solution featuring custom website design and ongoing editorial, content strategy and website updates.