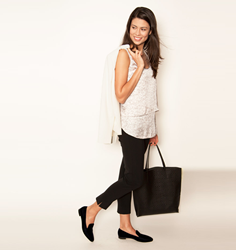 "Initially I was shocked to learn of the lack of options for nursing mothers."
New York, New York (PRWEB) May 16, 2017
MAIA MODA was founded with a mission to support breastfeeding and highlight its beauty. The breastfeeding clothing line targets mothers seeking beautiful and practical nursing tops and dresses. The company was launched by longtime friends Veronica Horner, a management consultant, and Gerta Frasheri, a fashion designer in NYC. The vision was conceptualized by Horner after the birth of her son, when she realized breastfeeding clothing options are limited and targeted primarily for at-home comfort. Thus MAIA MODA was born, offering casually elegant nursing tops and dresses focused on exceptional quality and refined fabrics that are stain resistant and can be thrown in the wash for easy maintenance.
The female-founded company sought to support women across its entire value chain. MAIA MODA partnered with a female owned New Jersey based manufacturing company to produce their clothes. The production facility trains and provides jobs for many women who previously lost jobs due to outsourcing. "We are proud to be working with other female-centric companies and also supporting manufacturing in the US" Veronica Horner, CEO, said at the launch of the company.
Gerta Frasheri is the designer behind the brand and has been working in the fashion industry for over 10 years. Frasheri said "Initially I was shocked to learn of the lack of options for nursing mothers. With so many friends becoming new moms I wanted to help change that". Her experience includes designing for esteemed fashion houses such as J. Mendel, Ralph Lauren, Isaac Mizrahi and J. Crew. She brings her high-end design aesthetic to nursing mothers who don't believe they should have to choose function over style.
The company outlook is strong as the demand for nursing clothes is expected to continue to grow. Breastfeeding rates are rising year after year with more awareness and support from campaigns like Normalized Breastfeeding as well as changing corporate and legal practices and regulations. The latest CDC Breastfeeding report card in 2016 found that 81.9% of women begin breastfeeding and 51.8% are still breastfeeding at six months. A 2.4% increase from just 2 years ago.
For more information and to order MAIA MODA clothes, visit http://www.maiamoda.com.
About
MAIA MODA is a modern breastfeeding clothing line of nursing tops and dresses. The name has a long motherly history. In Greek culture, MAIA represents "nursing mother" and MODA translates to style in Italian. The company was founded by Veronica Horner and Gerta Frasheri and launched in the Spring of 2017. For more information visit the website at http://www.maiamoda.com.