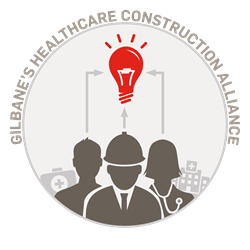 Leveraging best practices through a dedicated focus of our healthcare experts is critical to driving a transparent and client-focused healthcare practice that brings value to our clients. – Brian Garbecki, PE, Director of Healthcare
Providence, RI (PRWEB) May 09, 2017
Aging baby boomers that continue to drive growth in healthcare services coupled with increased consumerism, a sharpened focus on cost reduction strategies, and uncertainty over the future of our healthcare system are all contributing factors to steady gains in varying facility types for healthcare construction. Identifying a critical need for raising the bar when it comes to innovative healthcare project delivery, Gilbane Building Company has launched a National Healthcare Construction Alliance to address the unique challenges of this growing market.
Led by Gilbane's Healthcare Center of Excellence (COE) leader Brian Garbecki, the National Healthcare Construction Alliance is comprised of 20 of Gilbane's most seasoned healthcare professionals including project executives, estimators, field staff and transition planning and management experts from across the nation, several of whom have worked in healthcare organizations. These healthcare leaders are part of Gilbane's national Healthcare COE, which centralizes healthcare construction best practices and continually shares knowledge on current trends, sustainable design practices, construction solutions, equipment, technology, operational issues, cost and schedule reduction, speed to market, and vendors, specific to the unique requirements of the healthcare market. The Healthcare Construction Alliance is taking Gilbane's time-honored tradition of COEs to the next level by leveraging these internal best practices and lessons learned for the advantage of our clients and the industry as a whole.
"Change is coming fast in today's healthcare construction market, and we believe that being a leader in leveraging best practices through a dedicated focus of our healthcare experts is critical to driving a transparent and client-focused healthcare practice that brings value to our clients." – Brian Garbecki, PE, Director of Healthcare
Gilbane's Healthcare Construction Alliance will collaborate and communicate on an ongoing basis to share best practices, cutting-edge trends and first-hand experiences for the benefit of clients nationwide. This group will work with our clients to maintain a focus on identifying and implementing leading-edge healthcare developments, and also share the philosophy of client advocacy–from Lean project delivery to innovative cost modeling methods to sophisticated technology solutions. Stay tuned for unique content and more updates from Gilbane's Healthcare Construction Alliance.
About Gilbane Building Company
Gilbane provides a full slate of construction and facilities-related services – from pre-construction planning and integrated consulting capabilities to comprehensive construction management, general contracting, design-build and facility management services – for clients across various markets. Founded in 1873 and still a privately held, family-owned company, Gilbane has more than 50 office locations around the world. For more information, visit http://www.gilbaneco.com.