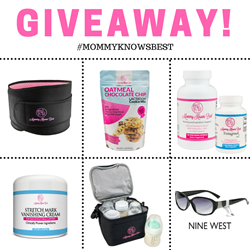 "This cream is amazing! I've been using it on my stretch marks for a week and I'm already starting to see them fade a bit. It's amazing how much more confidence it gives me. Absolutely love this product and would recommend to anyone.
(PRWEB) May 11, 2017
Those looking for the perfect gift for their Wife, Mom or Friend who has a baby, look no further. This Mother's Day, participate on Instagram or Facebook before 5/15/2017. Winners will be announced Monday and can choose three free products from six available options. All they have to do to enter for a chance to win is like the page and tag another mom in the post.
It is a "pick your prize giveaway" so each winner can pick three prizes of their choice from the attached picture.
First in the photo is the brand new Mommy Knows Best Post Natal Belt which helps Mom's recover from pregnancy. This maternity belt was especially designed for a woman's pregnancy body during and after childbirth. Made with specially engineered neoprene rubber it is highly adjustable, with the perfect design to fit around the belly. Use to maintain a healthy weight during pregnancy and for shrinking down to restore that pre-pregnancy curve. Because this is a newly released product this belt is not even available yet online.
Next on our giveaway list is the Oatmeal Chocolate Chip Lactation Cookie Mix with added blessed thistle, boosting and supporting breast milk supply in nursing mothers. Mothers love to give the very best to their babies which is why it's important to spend a little bit of time optimizing the nutrients they get from breast milk. Mommy Knows Best has the only lactation cookies with the herb, blessed thistle, a galactagogue boosting breast milk supply. With the perfect premixed combination of brewer's yeast, flax seed & oats, customers will enjoy a healthful delight. These ingredients have been used for generations, aiding breast milk production and replenishing key nutrients mothers need. Who thinks of eating delicious cookies when looking to boost their child's diet? These things are awesome!
Then comes the Lactation Supplements. Our team of experts have created a natural, synergistic herbal blend of Fenugreek, Blessed Thistle and Fennel Seed combining the most commonly used herbs for natural breast milk production that work in harmony to create a truly superior blend for maximum results. Fennel Seed has been given to nursing women since the times of ancient Greece to help stimulate milk production. While boosting milk supply, fennel seed also passes through breast milk to help the baby's digestion and relieve symptoms of colic. On top of all this, it has an omega-3 fatty acid, DHA which is an essential building block for your baby's brain and eyes. And that's just fennel seed. Blessed Thistle and Fenugreek increase Mother's breast milk supply. Here, both the regular supplement and the fenugreek are bundled together in the offer.
Starting our second row, Mommy Knows Best Stretch Mark Vanishing Cream is a perfect fit for Mother's who need to treat their stretch marks, scars and lines that appear after pregnancy. The cream is formulated with a special blend of vitamins, minerals & nourishing oils that contribute towards reducing the appearance of stretch marks caused by pregnancy and weight change while also providing key nutrients the body needs to maintain skin elasticity. Mommy Knows Best combines the most advanced anti-scar and stretch mark properties with intense hydration, smoothing for an amazing reduction in age spots, freckles and skin discoloration. Active ingredients include Palmitoyl Oligopeptide, Palmitoyl Tetrapeptide, Emblica Phyllanthus Extract, Hydrocotyl Extract, Bearberry Extract, Tetrahexyldecyl Ascorbate, Tocopheryl Acetate, Cocoa Butter, Shea Butter, Mango Butter and Aloe Vera Gel!
Next, the Mommy Knows Best Baby Bottle Cooler Storage Bag is the perfect solution for keeping and storing fresh breast milk for newborn babies. Whether working or traveling, our insulated waterproof storage container will keep milk at the perfect temperature for approximately 6 hours. These bags are perfect for Mom's to take on the go and fits up to 6 bottles or milk bags. With a compact design this bag is easy for storage and is doubly insulated to keep milk cold longer.
And finally on our product giveaway list are the Nine West glasses. The Mommy Knows Best pair of Nine West glasses are a casual styled pair of sunglasses that offer 100% UV Protection and comes in either black or brown frames and lenses. A $38 dollar value for free.
Remember to participate before Mother's Day is over at Mommy Knows Best's Instagram and Facebook Mother's Day Giveaway posts. This is entirely a promotional deal to help get the word out there for Mommy Knows Best while making customers happy check out their other products at MommyKnowsBest.com and on Amazon.