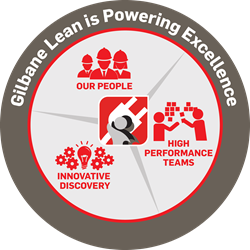 Providence, RI (PRWEB) May 10, 2017
Gilbane Building Company, a national leader in Lean construction and innovation, is taking its Lean journey to the next level. Built on a People First mentality, Gilbane launched an intensive Lean Practitioner training program, which supports individual staff members in learning Lean principles and techniques in their relentless quest to provide added value to clients. The program is a learn-while-doing effort, where improvement results are required in order to advance to the next level, culminating in the completion of a business process improvement project.
Gilbane realizes that employees are driven to help our teams and clients succeed and need to learn and apply Lean concepts on the job. Gilbane's Lean Practitioner program is unique in its approach of empowering employees using the Lean concept of pull. When employees pull for knowledge, they are paired with coaches at their point and time of need in a small group setting with colleagues from different geographies, backgrounds and roles. The ultimate goal of this approach is to learn and immediately apply their new capabilities and breakthrough thinking.
"Lean cannot be totally successful when applied in isolation or in a limited way. It is for that reason that we began the Lean Practitioner journey over 18 months ago. Supporting all of our employees with Lean coaching in doing what they do, can not only enhance their daily work experience, but deliver more value to our customers thereby supporting our core value of Dedication to Excellence." – Michael E. McKelvy, Gilbane Building Company President & CEO
Of the almost 3,000 full-time employees at Gilbane Building Company, over 200 are currently engaged in their Lean journey. Project Engineer Christina DeCarlo, the first employee to complete the program, shared a few words about her experience: "Throughout my coaching, I learned visual management techniques and new methods to find and solve root problems. I applied these techniques to my own project team to promote teamwork and innovation. This resulted in an improvement in our process by reducing overall turnaround time. I can see myself using these tools on any job no matter what my role is in the future."
Beyond employee development, the greatest benefit of this program has been the number of process improvements implemented. Ranging from back of the house initiatives such as reducing processing time for invoices, to improving certainty in quality assurance for the building exterior wall, to more effectively preparing customer deliverables such as closeout and turnover packages, Gilbane's Lean Practitioner program is transforming how the company approaches problem identification and problem solving. For more information about Gilbane's three-dimensional approach to Lean transformation, visit our Lean website page: http://www.gilbaneco.com/one-family/our-lean-transformation/.
About Gilbane Building Company
Gilbane provides a full slate of construction and facilities-related services – from pre-construction planning and integrated consulting capabilities to comprehensive construction management, general contracting, design-build and facility management services – for clients across various markets. Founded in 1873 and still a privately held, family-owned company, Gilbane has more than 50 office locations around the world. For more information, visit http://www.gilbaneco.com.