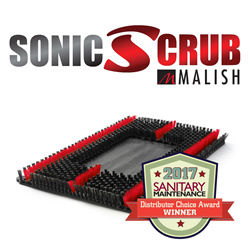 Mentor, Ohio (PRWEB) May 11, 2017
The Malish Corporation, a global leader in the manufacturing and marketing of rotary/disc brushes for commercial floor cleaning machines, along with a growing line of janitorial and foodservice/color-coded brushes, has announced that its Sonic Scrub product has received the prestigious Distributor Choice Award by Sanitary Maintenance Magazine.
The Sanitary Maintenance Distributor Choice Awards Program recognizes the best and most useful sanitary supply products of the year, as determined by sanitary supply distributors who voted from a list of over 350 products in an online campaign. The voters represent every type of distributor active in the industry including janitorial, paper, foodservice, industrial and wholesale.
Aja Rendek, Marketing Manager for Malish commented, "We are thrilled to receive this Distributor Choice Award. We have felt right from its introduction that our Sonic Scrub was a game changer in the industry and this award, as voted on by our valuable distributors, validates the hard work that went into creating this new, revolutionary floor brush."
The Sonic Scrub by Malish features an innovative patent pending (US and International) design that is both cost-effective and more efficient than standard floor pads. The product is tufted with polypropylene and durable nylon filament to handle the toughest cleaning jobs. The rectangular shape is ideally suited for hard-to-reach wall edges and corners. Sonic Scrub is recommended for heavy duty wet scrubbing or light stripping on VCT, quarry, grouted tile and terrazzo flooring.
About The Malish Corporation
Founded in 1945, The Malish Corporation specializes in the manufacturing of rotary or disc brushes, janitorial brushes, foodservice brushes and the Diamabrush™ By Malish Floor Preparation System. The company is also a custom extruder of thermoplastic tubes and profiles. Headquartered in Mentor, Ohio, The Malish Corporation operates manufacturing facilities in North America and Asia as well as a distribution center in Europe. With a reputation for quality, engineering, testing and integration, The Malish Corporation provides every customer with personalized business solutions.
For more information, contact:
The Malish Corporation
Toll-free 800.321.7044 • 440.951.5356 • http://www.malish.com
Company Contact: Aja Rendek (ajar(at)malish(dot)com)
Clayman and Associates, LLC
740.376.1470
Agency Contact: Margie Clayman (mclayman(at)claymanandassociates(dot)com)