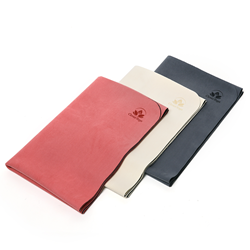 Spend your time practicing yoga ... not cleaning your mat!
Tampa, Fl (PRWEB) May 24, 2017
There is soon to be a world where yogis can throw their yoga mat directly in the washer and dryer after a sweaty session!
And yoga practitioners all over the country can pre-order theirs today!
Meet the most versatile yoga travel mat in the market: YogiOnTheGo. Designed to fit into most luggage and backpacks, this mat weighs less than 2 pounds, is foldable, waterproof and extra grippy. Place directly on the floor or on top of a studio mat. It's made of all-natural tree rubber, which is eco-friendly and keeps the mat from sliding. Yogis can take their practice on the go with our premium yoga travel mat.
This new travel mat is 1 mm thick and 24" x 71" so it can function as a mat topper or a stand alone mat. Like all Clever Yoga products, the new travel mat is eco friendly. The bottom is made from natural tree rubber so it sticks to the floor. The mat is 100% recyclable, biodegradable and made of odorless material. There is a waterproof layer in between that will absorb sweat from even the most intense Bikram yoga practice. Your main mat or the floor will remain dry even if you sweat like crazy. And the mat will remain stuck to the floor without sliding around no matter what!
And the best news is that the cleanup is as easy as 1-2-3. Throw the mat in the dirty laundry, wash and dry just as anyone would with a regular towel. Just like that, the yoga mat is like brand new! It is durable and will stand the test of time no matter how often it is used, how much sweat it has absorbed or what type of yoga it is used for.
Clever Yoga is now offering the YogiOnTheGo revolutionary foldable and washable yoga mat as a pre-sale only. Reserve yours today for the special price of $45 and get it by June 5!
About Clever Yoga
Clever Yoga is an innovative woman-owned and operated company, based in Tampa, Fla.
Clever Yoga aims to offer superior, reliable products that make a difference in customers' lives. The Clever Yoga team uses meticulous market research and strict quality control and testing to create high-quality products.
Recently, the company has launched an online store using the largest online retailer, Amazon, as their platform. CleverYoga's online store can be found on Amazon.
Established in 2014, Clever Yoga's mission is to provide reliable, high quality yoga equipment, as well as excellent customer care.