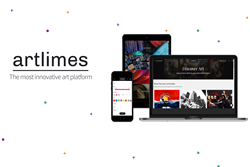 In the age of the Internet, Artlimes is a new point of reference in the global art world, where artists, art collectors and art lovers are connected in a fully effective way, said Wild Drawing, an established artist whose art is available on artlimes.com
London, United Kingdom (PRWEB UK) 10 May 2017
Today, Artlimes announced the launch of a new online marketplace, enabling artists, art dealers, and galleries to sell original paintings, limited edition prints, and other artwork to collectors and first-time buyers of fine art. Sellers can maximise their returns quickly and efficiently, while buyers may purchase pieces with custom framing, shipping, insurance, tracking, multiple currencies and many other features, all on the same platform. The company has built their marketplace with Reaction Commerce, the first completely open and real-time commerce platform designed to build, run, and scale modern digital stores.
"With so many artists, galleries, and art dealers around the world, it's difficult finding art you like and getting it delivered to your door. Artlimes.com offers the most advanced user experience online, allowing sellers in more than 21 countries to focus on their art and spend less time trying to upload and distribute their artworks," said Lorenzo Campanis, founder and CEO of Artlimes. "We have simplified the shipping process and now support multiple currencies, allowing buyers to easily find and purchase art they love."
"In the age of the Internet, Artlimes is a new point of reference in the global art world, where artists, art collectors and art lovers are connected in a fully effective way," said Wild Drawing, an established artist whose work is available on artlimes.com.
With Reaction Commerce as its commerce platform, Artlimes has been able to launch an advanced online art marketplace that not only allows for the most personalised shopper experience on the market, but also gives sellers a simple, seamless platform to display and sell their art. Reaction enables designers, developers, and entrepreneurs to create transformative ecommerce experiences.
"We're so inspired by the way Artlimes is helping artists get their work in front of more people, while also addressing the clear need for faster innovation and a more personalised buyer experience," said Sara Hicks, co-founder and CEO of Reaction Commerce. "We can't wait to see what further innovations Artlimes will create using the Reaction platform."
Lorenzo added: "Artlimes will continue to work closely with the Reaction community of developers and designers to contribute to the platform and grow its capabilities. Our mission is to redefine the digital experience for buyers and sellers worldwide through new and original solutions that have yet to be developed, and Reaction is the only ecommerce platform on the market that can help us achieve that goal."
About Artlimes Ltd.
Based in London with domain name artlimes.com, Artlimes Ltd. is an ecommerce marketplace, facilitating the online sale and delivery of original paintings, limited edition prints, and other artworks, sold by verified sellers worldwide. The platform supports multiple languages and currencies and is registered in England and Wales. For more information on Artlimes, including how to post your work, commission rates and other site features, please visit artlimes.com or send an email to contact(at)artlimes.com.
About the Open Source Contributions
Artlimes has been contributing to Reaction Commerce through code repositories hosted on GitHub. The Artlimes team is operating under the author name of "LCampanis" and can be accessed on github.com: https://github.com/reactioncommerce/reaction/issues?utf8=%E2%9C%93&q=author%3Alcampanis%20