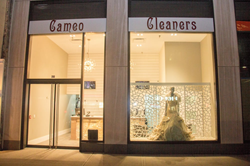 This is not your standard dry cleaning service - they are above and beyond. I save Cameo for my hardest problems and my nicest pieces. They always do a fantastic job. - Chris M.
New York, NY (PRWEB) May 16, 2017
In time for this year's wedding season, Cameo Cleaners, long trusted as one of the best wedding gown cleaners in NYC, announced today that it is adding to its portfolio of wedding gown cleaning and wedding gown preservation services. Cameo has been considered one of New York's premier couture dry cleaner and garment care services for over 60 years.
"As our customers can tell you, we put as much care into restoring your dress as you did in first picking it out," said a spokesperson for the company. "We clean bridal gowns by hand in our own facility. We know how to work around the tiniest embellishment and seam."
Cameo Cleaners has unparalleled experience in cleaning and preserving bridal gowns. They are renowned for attention to detail in bridal gown dry cleaning in New York. Cleaning a wedding dress requires a careful process. For example, Cameo avoids using certain dry cleaning chemicals (like "Perc") which can ruin the fabrics used in wedding dresses.
Cameo also offers last-minute, rush wedding dress alterations in NYC. The service is available in-home. "We come to you," the spokesperson added. "You're about to get married. You don't need to schlep down to us with your dress. Relax. Just call us and we'll come over and do the alteration in your home."
Museum quality preservation of wedding dresses is also available through Cameo Cleaners. Generations of New York brides have trusted Cameo to have their wedding gowns looking as memorable as they did on their wedding days. Cameo's methods allow clients to open the preservation package at any time so they can share their cherished memories with loved ones. The service includes wrapping the garment in acid-free fibers and placing it in an acid-free storage box.
Cameo's flagship store is located at 280 Third Avenue, near 23rd Street. This facility is capable of doing almost any type of cleaning. The company's services range from cleaning full beaded gowns that need to be done completely by hand as well as restoring leather pieces. Cameo has served its customers continuously since 1958. They are trusted by such world-famous organizations as the Metropolitan Opera, Fashion Institute of Technology (FIT) and the Cooper Hewitt Museum. Other services include care of accessories and handbags, fur glazing, garment restoration, cleaning of delicate interior fabrics such as curtains and Oriental rugs, bed linens and tablecloths.
For more information, visit http://cameocleaners.com.
Cameo Cleaners
280 Third Ave
New York, NY, 10010, USA
+1 (212) 677-3949