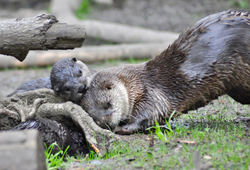 This is our sixth healthy litter of otter pups since 2011
Oakland, CA (PRWEB) May 11, 2017
For the second year in a row, North American river otter pups are making their debut in time for Mother's Day at Oakland Zoo. Mom, named Rose, is doing a great job taking care of her litter. She gave birth to a boy and two girls earlier this year, on February 9.
Zookeepers have named the pups; the boy is named Si'ahl ("C-all") and two girls Imnaha ("em-na-ha") and Talulah ("ta-lou-la"). This brings the total number of North American river otters to six, including dad, Wyatt and grandma, Ginger (Ginger is mother to Rose).
The pups are still nursing, but have begun eating solid foods consisting of fish and some meat.
Dad, Wyatt, is Oakland Zoo's only adult male and was relocated to Oakland three years ago from the Abilene Zoo in Texas where he was given a breeding recommendation by the Association of Zoos and Aquariums (AZA).
"We are pleased to have our sixth healthy litter of otter pups since 2011. This is Rose's second litter and we are happy that she is once again being a great mother to her pups. You can see Rose and her three pups daily at the Oakland Zoo in the Children's Zoo," said Adam Fink, Zoological Manager, Oakland Zoo.
ZooKeepers have been tracking the baby otters' growth and health with bi-weekly checkups, referred to as "pupdates" to Zoo staff. Rose has only very recently been venturing into the exhibit with her pups. Swimming is not instinctual; therefore, pups do not go on exhibit until they are strong enough swimmers and a certain size.
Zoo guests are now able to watch the new pups in their exhibit daily. The River Otter exhibit is located in the Wayne and Gladys Valley Children's Zoo.
ABOUT RIVER OTTERS:
River otters actually spend two-thirds of their time on land, yet eat mostly fish, crayfish, frogs, turtles, and other aquatic invertebrates. Otters breed in late winter to spring but the embryos only develop to the blastocyst stage and then they stop developing further until about 9-10 months later. Once they start to develop again, gestation is 68-74 days. This type of process is known as delayed implantation. The pups will start their life in a burrow in a river bank and are born blind and helpless. They are nursed by mom otter for one month and are weaned at about 3-4 months; they then begin to venture out of the burrow/den to play and learn how to swim.
ABOUT OAKLAND ZOO:
The Bay Area's award-winning Oakland Zoo is home to more than 660 native and exotic animals. The Zoo offers many educational programs and kid's activities perfect for science field trips, family day trips and exciting birthday parties. Oakland Zoo is dedicated to the humane treatment of animals and wildlife conservation onsite and worldwide; with 25¢ from each ticket donated to support conservation partners and programs around the world. The California Trail, a transformational project that more than doubles our size, opens in 2018, and will further our commitment to animal care, education, and conservation with a focus on this state's remarkable native wildlife. Nestled in the Oakland Hills, in 500-acre Knowland Park, the Zoo is located at 9777 Golf Links Road, off Highway 580. The East Bay Zoological Society (Oakland Zoo) is a nonprofit 501(c)3 organization supported in part by members, contributions, the City of Oakland and the East Bay Regional Parks. For more information, go to: http://www.oaklandzoo.org