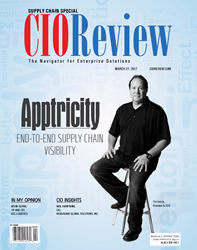 "By having unprecedented information and business intelligence in real time across their organization, CIOs are able to make informed decisions and stay on top of every challenge in their marketplace." – Tim Garcia, President and CEO, Apptricity
Dallas, Texas (PRWEB) May 10, 2017
As a feature in its recent March 2017 Supply Chain Special edition, CIOReview Magazine interviewed Tim Garcia, CEO of Apptricity Corporation, about the importance of end-to-end supply chain visibility and the benefits of solutions that cover every aspect of SCM.
A distinguished panel of prominent CEOs, CIOs, VCs, analysts, and CIOReview Magazine's editorial board assessed hundreds of SCM solution providers, selecting the 20 at the forefront of providing cutting-edge Supply Chain technology solutions.
Exploring the benefits of seamless integration across an array of SCM needs, the article highlights how enterprises can improve their supply chain operations through improved workflow, end-to-end reporting, and real-time visibility of location and status.
Apptricity helps companies seamlessly manage their assets, inventory, warehouse and field services by streamlining the supply chain, providing 360-degree visibility on every front of the clients' business operations. The complete interview can be found at: http://magazine.cioreview.com/magazines/March2017/SupplyChain/#page=10
About Apptricity Corporation
Apptricity Corporation is a leading global provider of Internet of Things (IoT) M2M mobile and web solutions for supply chain management (SCM) and spend management. Deployed by companies and government entities worldwide, Apptricity solutions provide unprecedented real-time information and business intelligence – giving management visibility into every action and transaction within an organization and across partners, customers and suppliers. By enhancing legacy enterprise applications to increase and extend the value of information technology investments, we bring accelerated business processes and command visibility to business, government and the military.
About CIOReview
Published from Fremont, California, CIOReview is a print magazine that explores and understands the plethora of ways adopted by firms to execute the smooth functioning of their businesses. A distinguished panel comprising of CEOs, CIOs, IT VPs including CIOReview editorial board finalized the "20 Most Promising Supply Chain Tech Solution Providers - 2017" in the U.S. and shortlisted the best vendors and consultants. For more info: http://www.cioreview.com/.
Apptricity is a registered trademark of Apptricity Corporation. All other trademarks, registered trademarks and service marks are the property of their respective owners.