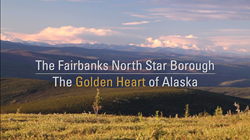 There are positive outcomes when the travel industry and economic development organizations work together
Fairbanks, Alaska (PRWEB) May 10, 2017
Late afternoon on Wednesday, May 10, during a reception for media credentialed for the Arctic Council Ministerial Meeting, the Fairbanks North Star Borough (FNSB) unveiled its new economic development marketing video produced in partnership with Explore Fairbanks. The four-minute 15-second video highlights the many qualities that define the borough and incorporates images of locals working, playing and giving back in the community.
The music in the video is performed by the local band Young Fangs playing their original song "Show Me the Way" with the Fairbanks Symphony Orchestra conducted by Eduard Zilberkant. The instrumental arrangement was created by Scott Hansen, an undergraduate student in music composition at the University of Alaska Fairbanks. Fairbanks-based Sound Reinforcement Specialists recorded and mixed the sound. The video was directed and produced by Anchorage-based Brilliant Media Strategies.
Building on a philosophy of collaboration, the Fairbanks North Star Borough and Explore Fairbanks designed this video to be a companion piece to the Explore Fairbanks award-winning video released in October 2014 that has a tourism-oriented focus. Karl Kassel, FNSB Mayor, said, "There are positive outcomes when the travel industry and economic development organizations work together." He cited a 2014 study by Oxford Economics which concluded that municipalities that prioritize destination marketing and coordinate these efforts with economic development initiatives have experienced significant site relocations and new investments as a direct result. By working together, Explore Fairbanks and FNSB are trying to capture similar results and promote economic development in the borough.
The video is to be widely circulated in social media as well as online. Any organization or business involved in recruiting employees or businesses to the borough is invited to use this video to showcase the Golden Heart of Alaska as a great place to live, work, play, and give. To view the video go to: https://youtu.be/Ju1Ofz3jrBQ
###
About the Fairbanks North Star Borough
The Fairbanks North Star Borough (FNSB) is Alaska's second most populated borough and residents commonly refer to it as the "Golden Heart of Alaska." Due to its central location, the FNSB is the transportation, trade, and service center for the vast Interior and Northern regions of Alaska. The FNSB's location along transpolar air routes makes it logistically attractive for global air transportation and military operations. Find out more at http://www.co.fairbanks.ak.us
About Explore Fairbanks
Explore Fairbanks is a non-profit marketing organization whose mission is to be an economic driver in the Fairbanks region by marketing to potential visitors and optimizing the visitor experience. Explore Fairbanks markets Fairbanks as a year-round .