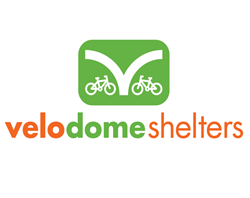 Bike theft is rampant on college campuses. Velodome Shelters has a solution.
Clifton, NJ (PRWEB) May 11, 2017
Velodome Shelters, a Clifton, NJ producer of bicycle parking products and BikeHub, a San Francisco bicycle transportation consultancy, recently teamed up to provide California's Samuel Merritt University with a secure bicycle parking enclosure to protect their students and faculty bikes from theft and the elements.
Samuel Merritt University, a prestigious health industry college located in an urban area of Oakland, CA was experiencing a persistent problem that is all too common on college campuses– rampant bike theft. To tackle the problem, SMU's Facilities Dept. contacted Gene Oh, founder of BikeHub, which helps its clients develop and execute bike related projects such as bike share programs, bicycle fleet management and bike parking and repair facilities they call BikeHubs.
Oh collaborated on the project with Velodome Shelters, which produces indoor and outdoor bicycle parking products and is known for their focus on bike security. After considering Velodome's BikeGarage, Guardian and Peapod locking bike shelters, they decided on the Peapod model.
Only 12' wide x 15' long, the compact Peapod has a locking door and accommodates 20 bikes using Velodome's MaxRacks, a high density, high capacity bike rack system. The shelter is manufactured with an anodized aluminum frame, polycarbonate barrel roof and shatter-proof, tempered glass wall panels. It is also pre-fabricated in sections for easy assembly and crated for low-cost shipping.
BikeHub provided the student card access system and coordinated installation of security cameras and lighting at night.
Beyond working with SMU for almost two years since the inception of the project, Oh had to get approval from Sutter Health which is SMU's parent company. The site selected for the bike shelter was next to the University's main classroom building and Sutter Health Hospital. BikeHub provided full-services, from scoping the project, selecting the vendor, providing the access control system and acting as project manager from delivery to installation to billing.
According to Oh, "The BikeHub has been well received by students and staff alike. Beyond the obvious security and high quality of the Velodome bicycle shelter, it matches the aesthetic of the adjacent buildings. Velodome is truly a great partner to work with...they provide real hands-on support and customize their solution to each project."
About Velodome Shelters:
Velodome Shelters specializes in design, engineering and manufacturing innovative bicycle parking shelters, bike racks and bike storage products. For more information about the Peapod and Velodome's other bike parking products, visit http://www.velodomeshelters.com or contact sales(at)velodomeshelters(dot)com / 888-995-9080.