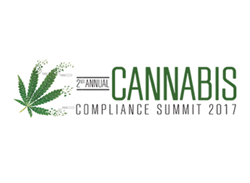 Hearing updates and lessons learned from top regulators, lab testers and operators all in one place make this a premier event for cannabis entrepreneurs
(PRWEB) May 11, 2017
Infocast's Cannabis Compliance Summit, scheduled for July 19-21, 2017, brings policy makers in the same room with the testing labs, equipment and technology providers, operators and industry experts to create uniform cannabis industry frameworks.
With increasing legalization of both recreational and medicinal marijuana, the cannabis testing industry is ripe for exponential growth.
Cannabis lab testing requirements are drawing a lot of attention and are under increased scrutiny from state regulators, testing labs, cultivators, producers, retailers and patients. Uniform national testing and operational standards and protocols need to be developed and implemented to ensure products' consistency for safety and efficacy.
The long list of Cannabis Compliance participants includes top operators from Giving Tree Wellness Center, URB, Calvia and Seven Point.
Panel discussions focused on lab certification, testing and labeling will include speakers from leading cannabis testing labs such as PathogenDX and Steep Hill.
The Summit will also include a State Regulator Series. Maryland, Utah and Minnesota regulators will speak on current state testing models, lessons learned and best practices. Additionally, Lori Ajax, Chief of the Bureau of Medical Cannabis Regulation, will lend her expert insight.
"Hearing updates and lessons learned from top regulators, lab testers and operators all in one place make this a premier event for cannabis entrepreneurs," said Vladka Anderson, Event Designer at Infocast.
For more information or to register, visit at http://www.infocastinc.com/event/cannabis-compliance or call Infocast at 818-888-4444.
About Infocast
For over 30 years, Infocast has produced the highest quality events, tailored to the needs of the industries we serve. We intensively research the marketplace, pulling from an extensive network of experts to give you the information and connections to succeed.