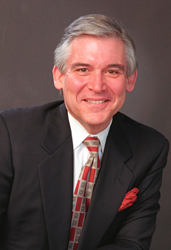 Europe, with its embrace of alternative energy, micro grids and other novel approaches, is in many ways ideally suited for the further growth and development of cooperative energy production
BERLIN, Germany (PRWEB) May 10, 2017
Europe's energy sector could foster robust growth by taking greater advantage of cooperative structures in which customers, rather than governments or outside investors, are the true stakeholders, asserted LeClairRyan attorney Roy M. Palk during the annual conference of the Associated European Energy Consultants (AEEC), May 2-5 in Berlin.
"Unlike the United States, which is replete with electricity and other utility cooperatives, the nations of Europe have yet to leverage cooperatives in a large-scale way," said Palk, Senior Energy Industry Advisor for LeClairRyan and former CEO of the East Kentucky Power Cooperative. "And yet Europe, with its embrace of alternative energy, micro grids and other novel approaches, is in many ways ideally suited for the further growth and development of cooperative energy production."
Indeed, a new cooperative—the Transatlantic Energy Cooperatives Alliance—was formed by some of the participants in the event, said Palk, who is based in the national law firm's Glen Allen, Va., office.
LeClairRyan did the legal work to charter the cooperative in Virginia, Palk explained, and the new entity will likely be based in Berlin. "Right now, we are looking at developing a needs list for the cooperative, and we're moving forward on a statement of objectives for the organization," he said. "We will begin the solicitation of membership after that."
Leading the cooperative are cochairmen Rudi Rienzner, CEO, of the Bolzano, Italy-based South Tyrolean Energy Association, and Kent D. Farmer, President and CEO of the Rappahannock Electric Cooperative in Fredericksburg, Va. Palk was elected Secretary.
"Energy companies in Europe, in general, are farther ahead of their U.S. counterparts when it comes to certain technical aspects of renewable energy—in particular, integrating renewables into existing grid," he said. "On the U.S. side, meanwhile, we have decades of business experience in making cooperatives thrive. Both sides of this transatlantic cooperative will be learn from and benefit each other."
Palk traveled to Berlin along with his colleague James P. Guy, II, head of LeClairRyan's Energy Industry Team and a Shareholder in its Glen Allen and Washington, D.C., offices.
They were joined at the conference by fellow AEEC members from the Berlin-based law firm of Becker Büttner Held (BBH), as well as utility CEOs, government officials and legal, banking and finance experts from Europe and the United States.
The conference focused on challenges and opportunities related to transatlantic energy today. One of the biggest topics, Palk noted, was the effect of the Trump administration's policy priorities on the energy sector. "Our German and European colleagues were intently interested, to say the least, in what we thought might realistically happen in energy as a result of the new administration," Palk said.
Participants in the conference also discussed the mutual benefits to Europe and the United States of a stronger export relationship with respect to U.S. liquefied natural gas (LNG), Palk said. "Our country's abundant natural gas resources could make a big difference for Europe, which right now is uncomfortable with importing about 30 percent of its gas from Vladimir Putin's Russia," he told the group. "The United States is ramping up construction of the ports, pipelines and tanker ships needed to export LNG quickly and efficiently to Europe, so the time is now to start laying the legal and business groundwork for this transatlantic relationship to reach optimal development in the years to come."
Palk gave a detailed presentation on the challenges facing cooperatives, including making progress on environmental issues, assuring the integrity of the power grid and embracing new forms of power-production technology.
"We had a lively discussion about the present and future of energy cooperatives," Palk said. "It will be interesting to watch how cooperatives develop in Europe, which in some ways already has embraced a cooperative approach to energy, as with micro grids, where a few houses in a neighborhood might join together and have their own power supply system. No doubt alternative energy, too, will be a big part of the picture across the continent."
The four-year-old AEEC is an initiative between LeClairRyan and BBH. It was created to serve transatlantic clients of both firms and to foster industry education. "Both LeClairRyan and BBH are committed to the in-depth exchange of information on these issues for a simple reason—improving our knowledge enables us to better serve our clients," Palk said.
About LeClairRyan
As a trusted advisor, LeClairRyan provides business counsel and client representation in corporate law and litigation. In this role, the firm applies its knowledge, insight and skill to help clients achieve their business objectives while managing and minimizing their legal risks, difficulties and expenses. With offices from coast to coast, the firm represents a wide variety of clients nationwide. For more information about LeClairRyan, visit http://www.leclairryan.com.
.
###
Press Contacts: At Parness & Associates Public Relations, Bill Parness, (732) 290-0121, bparness(at)parnesspr.com or Lisa Kreda, lkreda(at)parnesspr.com