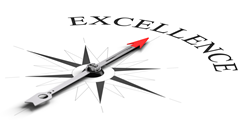  "Our mission in life should be to make a positive difference, not prove how smart or right we are." -Peter Drucker
Kure Beach, NC (PRWEB) May 11, 2017
In a world of accelerating change, relevance can never be taken for granted. Two things we know for certain: the future is coming faster, and technology has leveled the playing field into a sea of sameness. Organizations are finding it more difficult to stand out in a crowded marketplace, feeling greater pressure to outperform the competition, all while trying to keep pace with higher customer expectations and demands. In today's world, it's perform or perish!
High-performance organizations can be compared to a three-legged stool. The legs of the stool are dependent upon each other to achieve its purpose. In high-performance organizations, the legs are represented by: 1) systems and processes, 2) leadership, and, 3) customer-focus. Like the legs on a stool, each component is dependent upon the other for organizational success.
Systems and processes must be designed to facilitate and support high-performance, optimize assets, and ensure efficient deployment of scare resources. Leaders must think, lead, and, act, in effectively executing strategies, while developing the next generation of leaders. Customers must be at the center of every activity, with a connected at the hip relationship.
To help organizations remain viable, differentiate their brand, and accelerate profitable growth, a three-part mini-book (40-70 pages) series has been released: What Great Leaders Do, How to Become a High-Performance Organization, and, Customer Service – The Ultimate Differentiator.
These how-to books are quick reads, easy to comprehend, and packed with actionable insights and daily strategies and tactics. They include:
1. 7-things great leaders consistently do.
2. Leadership character traits.
3. 100-point organizational assessment.
4. 25-characteristics of a high-performance organization.
5. 12-customer service words to avoid and use.
6. 3-methods to gaining customer insight.
7. Key metrics to measure progress.
McKenna's mini-books are priced so that every employee in the organization can have their own personal copy - a small investment to maximize ROI on an organization's largest investment: people. Mini-books provide organizations the peace of mind and confidence that their employees are prepared to consistently deliver the best results.
Order a copy today for only $9.95 at: http://www.terrymckennabooks.com.
###
Company: Terry McKenna is Principal and co-founder of Employee Performance Strategies, Inc., (EPS), a leadership development and organizational design consulting firm. EPS helps retail organizations maximize their financial results by maximizing the job performance of their workforce's. For more information about this topic, please visit: http://www.terrymckennabooks.com.