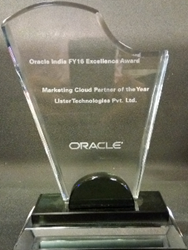 "They have both global reach and scale, and extreme depth in our stack across Oracle. They are a powerful extension of our salesforce." James Mullarney, VP Alliances, Oracle Marketing Cloud
San Francisco,CA (PRWEB) May 09, 2017
Lister Digital (http://www.listerdigital.com), CX Solution Experts, has been recognized as Oracle India's 2016 Marketing Cloud Partner of the Year for demonstrating business excellence and customer satisfaction in delivering innovative solutions with the Oracle Marketing Cloud. The award recognizes Lister Digital's deep industry and technology expertise, and the company's ability to help customers realize results with digital, cloud-based solutions.
"The Oracle Marketing Cloud is the leading solution in the marketplace today, and we are proud to have been partners for the last 5 years," said Ashok Rajan, President of Lister Digital. "This award is a recognition of our greatest assets - talented staff and technologies, combined with our ability to uniquely address the needs of OMC customers."
Lister Digital's solutions combine thought leadership talent, efficient delivery staff and its own technologies with the purpose to solve the complexity and fragmentation issues that exist in cloud offerings today. The company offers solutions that accelerate and heighten any organization's investment in the Oracle Marketing Cloud, and specifically the Responsys, Eloqua, Maxymiser and BlueKai platforms.
"Lister plays a critical role for the Oracle Marketing Cloud. They have both global reach and scale, and extreme depth in our stack across Oracle. They are able to move beyond point solutions, and drive compelling, integrated CX implementation," said James Mullarney, VP Alliances, Channels and Agencies, Oracle Marketing Cloud. "In addition, they are not only a key technical partner and systems integrator, they are a powerful extension of our salesforce."
About Lister Digital
Lister Digital (http://www.listerdigital.com) is a CX Consulting and Solutions provider with Digital Marketing, e-Commerce and CRM practice areas. The company is uniquely positioned to help organizations cut through the clutter of marketing noise and tools and connect the dots between Strategy, Technology and Execution in an intelligent, practical and hands on manner.
Lister Digital is headquartered in the SF Bay Area with additional offices in Seattle and Chennai.