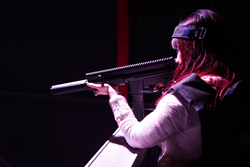 We pride ourselves on providing a unique and thrilling entertainment experience.
Schiller Park, IL (PRWEB) May 10, 2017
iCOMBAT will be opening the nation's largest and most realistic tactical laser tag facility in Schiller Park (iCOMBAT Chicago-west) on Saturday. iCOMBAT Chicago-west will open to the public May 20th & 21st, players will be treated to 90-minute sessions and free pizza for $15.
"iCombat is not a traditional laser tag location -- we use the most advanced equipment on the market for missions on a Hollywood-style movie set" said Brandon Mijokovic, Vice President of Operations, "We pride ourselves on providing a unique and thrilling entertainment experience."
The iCOMBAT laser tag equipment is so realistic that it used for training by military and law enforcement units around the world including the United States Army and the Spanish Airborne Brigade. The equipment is used in over 50 countries on six continents.
The 32,000 square foot facility will offer two battlefields, Alcatraz and Shanty Town. Alcatraz, the first field to open, is 12,000 square feet, replicates the infamous prison that housed the likes of Al Capone and James "Whitey" Bulger.
The maze-like layout offers a complex ground floor and mezzanine for optimal sniper action. The features also include, divided prison blocks with detailed cells, a prison bus, and watchtowers. It has an adrenaline pumping, 25,000 watt audio system. Over 75 independently controlled theater lights, SMG weapons and 25+ missions to tantalize your nerves.
Grand Opening weekend, May 20 & 21 will start at noon and end at midnight. 90-minute sessions will be offered at half-price ($15) and include pizza, provided by Bacci's Pizzeria. Players are encouraged to come 30 minutes before their session starts to check in.
Each session is divided into six to eight missions, each lasting approximately five minutes. For general sessions, no one under the age of 13 is permitted. Membership is free and regular sessions are $30. All players must check-in to their session prior to entering the field. Like its Wisconsin locations, iCOMBAT Chicago-west will also offer private party options (birthday, corporate, bachelor/bachelorette, etc.) and team building activities.
For more information, visit chicagowest.icombat.com or Facebook.com/iCombat.