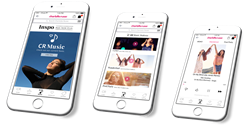 Success in fashion requires a fine balance of innovation, commerce, and experience, all centered around the customer and what she wants in that moment.
(PRWEB) May 10, 2017
Fashion retailer Charlotte Russe today announced a partnership with Feed.fm to provide custom in-app music playlists to enhance the customer experience while shopping in the app. As highlighted in a recent survey, Gen Z teens spend 4 or more hours per day with their earbuds in and 95% say music enhances their mood. Similarly, Millennials listen to 75% more music than Baby Boomers on a daily basis, as reported by Digital Music News last summer. Feed.fm's music furthers Charlotte Russe's commitment to customer-centric app innovation by combining their customer's love of fashion, shopping, and music into one app.
"The right music at the right time is undeniably powerful and uniquely inspirational," said Jeff Yasuda, CEO and co-founder of Feed.fm. "Charlotte Russe clearly has its finger on the pulse of mobile shopping and we are excited to partner with the brand to customize their digital brand soundtrack."
"Success in fashion requires a fine balance of innovation, commerce, and experience, all centered around the customer and what she wants in that moment," said Sejal Solanki, Director of Digital Experience at Charlotte Russe. "With Feed.fm, our customers can now express their musical style as well as their fashion sense, placing our app at the top of its class in an extremely competitive category."
The Power of the Brand Soundtrack
Since partnering with PredictSpring to re-launch its mobile app experience last Summer, the Charlotte Russe app has seen explosive growth with over 1 million downloads. Growth is largely attributed to speed, ease of use, and feature innovations like shoppable Instagram, exclusive VIP offers, daily flash sales, and real-time inventory. Adding music content to the mix increases differentiation and opens up a whole new medium for experimentation. Brands have traditionally under-leveraged music as content, despite the fact that it is proven to drive measurable shift in brand perception and ROI, as it's been costly and challenging to license. Feed.fm changes that with a turn key solution for developing a brand's soundtrack to amplify engagement and conversion regardless of mobile, app, or in-store location.

About Charlotte Russe
Charlotte Russe is a one-stop head-to-toe shopping experience for stylish girls on the go. With more than 550 stores throughout 45 states and Puerto Rico and with an ever-growing digital shopping presence, they're always evolving and looking for what's next. For more information, please visit http://www.CharlotteRusse.com and follow them on Instagram @CharlotteRusse…#CRItsOn.
About Feed.FM
Feed.FM helps brands leverage music to connect with their customers. Music impacts shopping behavior, drives lasting memories, and creates brand affinity. Feed.fm works with top brands including Charlotte Russe, Shazam, Toys "R" Us, and The Golden State Warriors to power mobile web and in-app music solutions. Customers listening to music are, on average, 2x more likely to convert to a purchase in a mobile app. Based in San Francisco, Feed.fm is funded by Crunchfund, Core Ventures Group, KEC Ventures, and Fyrfly.
About PredictSpring
PredictSpring is the fastest mobile commerce platform designed exclusively for brands and retailers. Our innovative technology powers native mobile apps, mobile web and store associate apps for the world's leading brands, including Cole Haan, Tommy Hilfiger, Charlotte Russe, Nine West, New York & Company, Brooks Brothers, and Vineyard Vines.