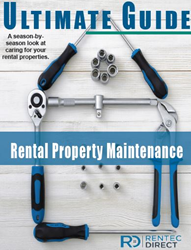 Grants Pass, OR (PRWEB) May 11, 2017
Rentec Direct, the leading property management software solution for real estate professionals, has released a free educational resource for landlords and property managers. The Ultimate Guide: Rental Property Maintenance gives readers a season-by-season look at property maintenance to help make rentals a profitable investment.
"The best property care involves routine maintenance and inspections each season that will prepare a home for seasonal elements like winter storms or summertime heat," explains Nathan Miller, president of Rentec Direct. "Regular inspections also allow an owner to identify any potential problem areas or damage that can be fixed before it becomes an expensive problem later."
The guide is broken down into four sections – one for each season – and covers what maintenance should be completed before the next season begins. Along with key steps for property managers and landlords, the guide also includes some helpful tips to pass along to tenants. Readers will also find a Rental Property Safety Checklist that helps identify key areas to asses at rental properties.
View the guide in its entirety at: https://www.rentecdirect.com/blog/rental-property-maintenance-guide/.
###
About Rentec Direct
Rentec Direct offers industry leading property management software and tenant screening solutions for real estate professionals. Features include online rent payments, tenant and owner portals, the industry's largest vacancy listing syndication network, full property, tenant, and owner accounting, 1099-MISC reporting, QuickBooks Sync and more.