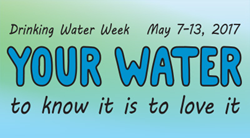 "We are each personally responsible to conserve water in and around our home," said AWWA Chief Executive Officer David LaFrance. "Checking for and fixing leaks is an easy way to do our part in preventing water waste."
DENVER (PRWEB) May 10, 2017
As Drinking Water Week continues, the American Water Works Association and water professionals across North America are encouraging homeowners to check and fix leaks inside and outside the home.
Consumers are encouraged to quickly and efficiently fix leaks in and around their homes to prevent water waste. To test for leaks inside, customers should shut off everything connected to water and inspect the home's flow indicator on the water meter. If the indicator continues to move, even with everything off, there's a leak somewhere in the home.
To check for a leaky toilet, customers can place a few drops of food coloring in the holding tank and wait five minutes without flushing. There's a leak if coloring appears in the bowl. Also, customers should check all faucets and under the sinks for dripping. To check for leaks outside, customers should inspect the lawn for wet spots or pools of water around spray heads. Brown or muddy spots would also indicate there is a leak in the irrigation system.
"We are each personally responsible to conserve water in and around our home," said AWWA Chief Executive Officer David LaFrance. "Checking for and fixing leaks is an easy way to do our part in preventing water waste."
More information on household leaks can be found on DrinkTap.org.
About Drinking Water Week
For more than 35 years, AWWA and its members have celebrated Drinking Water Week, a unique opportunity for both water professionals and the communities they serve to join together to recognize the vital role water plays in daily lives. Additional information about Drinking Water Week, including free materials for download and celebration ideas, is available on the Drinking Water Week webpage.
# # #
Established in 1881, the American Water Works Association is the largest nonprofit, scientific and educational association dedicated to managing and treating water, the world's most important resource. With approximately 50,000 members, AWWA provides solutions to improve public health, protect the environment, strengthen the economy and enhance our quality of life.