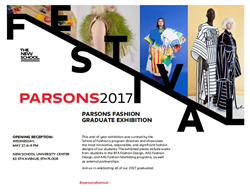 This end-of-year exhibition showcases the most innovative, responsible, and significant fashion designs of our students.
New York, New York (PRWEB) May 11, 2017
On May 17, Parsons Fashion will celebrate the 2017 graduating class of over 300 emerging designers and fashion professionals at a VIP reception and multi-level exhibition from 6:00 p.m. until 9:00 p.m. This year's exhibition endeavors to empower graduates to innovate, experiment, and discover their unique voices amidst social, cultural, and political shifts that directly affect women, immigrants, and minorities. Media and VIP are invited to a private viewing and tour of the designs given by the program directors of the Parsons School of Design.
The Graduate Exhibition will also feature Norman Norell and student work inspired by his legacy. Norrell is considered the first American fashion designer to compete successfully with French couture. In 1943 he received the first Coty American Fashion Critics Award, and in 1956 he was inducted into the Coty Hall of Fame. The New School Archives' digital collections include records of his awards, biographical material, press clippings, fashion sketches, photographs, and publicity scrapbooks. Records of several fundraisers organized with Norman Norell's assistance and the Sixtieth Anniversary Dinner, at which Norell received a Parsons Medal, can be found in the Parsons School of Design Alumni Association records. Additionally, the Kellen Design Archives holds 16-mm film reels in which Norman Norell appears as a visiting guest critic at Parsons between 1943 and 1972. Finally, the Parsons Fashion Study Collection holds approximately 25 vintage Norell ensembles, some of which are currently installed at the 2017 Parsons Festival.
Cakmak states, "The work exhibited here, curated by the School of Fashion's program directors in BFA Fashion Design and AAS Fashion Design and Fashion Marketing, represents not only a high level of craft and a diverse range of aesthetics but also a critical awareness to addressing today's societal issues. What's more, a Parsons education is grounded in social and environmental imperatives, enabling graduates to walk away with a clear understanding of how their work fits into the larger fashion landscape. This end-of-year exhibition showcases the most innovative, responsible, and significant fashion designs of our students," says Cakmak.
The Archive Display will include a Fashion Study Collection of 19th and 20th century couture and ready-to-wear fashion created by a noteworthy group of over 65 influential designers, many of whom have direct Parsons connections as alumni, critics, and instructors. This rare and unique collection of garments was donated to the university by the Costume Institute at the Metropolitan Museum of Art over the course of several years, starting in 2008. This collection highlights the value of hands-on learning. Its presence at Parsons has immeasurable value across schools and curricula and will serve past, present, and future students as well as faculty. Currently in the process of assessment, the school hopes to make the collection available to the fashion industry, academics, and the public at large. Highlights from this collection are on view at the 2017 Parsons Festival and include work by notable designers such as Claire McCardell, Norman Norell, Geoffrey Beene, Yves Saint Laurent, Pierre Balmain, and Coco Chanel.
Parsons Fashion Graduate Exhibition Hours
May 17–19
11AM–7PM
New School University Center
63 5TH Avenue, 3rd, 4th & 5th Floor, New York, NY 10003
Private Exhibition Tours
May 17, 3:30PM, 4PM, 4:30PM, 5PM
RSVP Required: Rajat.Singh(at)NewSchool(dot)edu
Opening Reception
May 17, 6–9 PM
New School University Center
63 5th Avenue, 5th Floor, New York, NY 10003
Future of Fashion Industry Panel
In Conversation with Gary Wassner
(CEO of Hilldun Corporation)
Moderated by Martin Okner
May 17, 5:30–6:30 PM
Partner collaborations responsible for supporting the exhibition include AARP, American Woolen Company, Care + Wear, Hela, Hugo Boss, Kering, Lana Reale, Linea Pelle, Luxottica, Parlux, Politecnico Calzaturiero, Safilo, Solstiss, Sophie Hallette, Swarovski, UNFPA, and Zappos.
About Parsons School of Design (newschool.edu/parsons) -
Parsons School of Design at the New School, founded in 1896, is one of the leading institutions for art and design education in the world. Based in New York but active around the world, the school offers undergraduate and graduate programs in the full spectrum of art and design disciplines as well as online courses and degree and certificate programs. Critical thinking and collaboration are at the heart of a Parsons education. Parsons graduates are leaders in their respective fields, with a shared commitment to creatively and critically addressing the complexities of life in the 21st century.