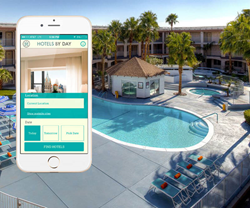 "With sites like FlexBook and HotelsByDay we are catering to travelers' schedules and not imposing specific time bands on them," said Yannis Moati, CEO of both FlexBook and HotelsByDay.
New York, NY (PRWEB) May 10, 2017
While the airline industry faces continued and growing customer fury over poor treatment, declining services and rigidity in processes, the hotel industry is countering suit and offering travelers greater flexibility and convenience. New hotel booking sites like FlexBook and HotelsByDay allow guests to customize their stays and enhance their experiences. With the busy summer travel season approaching and U.S. travelers predicted to stay within North America, hotel booking sites offer a great value to travelers.
FlexBook provides travelers with overnight hotel room stays with extended check in/out options, most as early as 9:00 or 10:00a.m. Travelers can book overnight hotel rooms with guaranteed early check-in and late check-out, bringing them peace of mind knowing they won't be left without a room for hours prior to check in, or inversely, will not be rushed and inconvenienced to check-out by 11:00am.
Travelers sign up to receive access to FlexBook's curated list of flexible hotels. The platform already has more than 15 participating hotels in New York as well as hotels in Los Angeles, San Francisco, Miami, Honolulu and Dubai, with hotels coming online in Canada and the UK this summer. Partners in New York include Hyatt Centric Times Square; Sixty Columbus; The Kimberly; San Carlos; Affinia Hotels, including the Benjamin; the LaGuardia Plaza Hotel; the Radisson JFK; and many more.
HotelsByDay is a popular day-stay hotel booking website that was recently featured on ABC's Shark TankTM. Travelers can book morning, midday, or afternoon hotel stays, generally between 9:00 a.m. and 4:00p.m., at discounted day-rates. HotelsByDay has hotels in most major U.S. cities including New York, Los Angeles, San Francisco, Miami, Chicago, Boston, Phoenix and Houston, as well as Toronto and London. It's ideal for business travelers who want a place to relax, refresh, recharge and work after an early arrival for a business meeting or event and for leisure travelers in seek of a daycation.
"For many travelers, the traditional 24-hour room stay doesn't fit their schedules. They may want to stay only a few hours during the day or may want to begin their stay earlier or extend it longer. With sites like FlexBook and HotelsByDay we are catering to travelers' schedules and not imposing specific time bands on them," said Yannis Moati, CEO of both FlexBook and HotelsByDay.
FlexBook and HotelsByDay also offer benefits to hotels. By providing hoteliers with technology and easy protocols to set-up different time bands for check-in/check-out and hotel stays, hotels can now seamlessly monetize idle day-inventory, increase revenues, better manage their check-in flows, and increase brand exposure to travelers, particularly Millennials, who seek customized experiences.
"The hotels we have onboard are seeing significant additional income by offering non-traditional hotel stays, even those that only offer a few rooms of flexible inventory," said Moati. "As more sites are coming online offering customized hotel stays, the industry will continue to adapt and offer greater convenience to travelers. It is a huge win for both consumers and hotels."
For more information, visit http://www.FlexBook.co and http://www.hotelsbyday.com.
FlexBook and HotelsByDay are startups based in New York City and made up of a team of hospitality industry veterans, technology experts and entrepreneurs who decided that there should be a better way for hotels to leverage their unused inventory during the day and for guests to be granted flexibility of check-in and check-out of a hotel room outside the conventional hours. Their goal is to provide travelers a more dynamic option when they shop for hotel rooms and to create the best platforms for hotels to provide this flexibility to the consumer. This spurred the creation of these unique platforms to marry these ideas together.
###
MEDIA CONTACT:
Gabby McNamara, GMAC Communications, (908) 461-5260, gabbymac(at)verizon.net