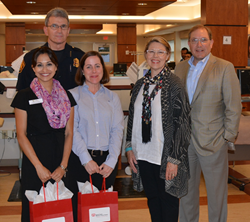 "All of us at SAPD are very touched by this act of kindness from our fellow city employees. In continuing on with Det. Marconi's legacy, their generosity will serve those most in need." San Antonio Police Chief William McManus
San Antonio, Texas (PRWEB) May 10, 2017
In the San Antonio spirit of community support, one gift has turned into another – and then another – that will benefit Haven for Hope and the Battered Women's and Children's Shelter.
The City of San Antonio holds employee blood drives twice a year. At their blood drive earlier this year, the South Texas Blood & Tissue Center (STBTC), a subsidiary of San Antonio-based nonprofit BioBridge Global, gave blood donors $10 H-E-B gift cards as a thank-you for their generous donations. City employees decided to donate their gift cards from the blood drive to the family of San Antonio Police Department Det. Benjamin Marconi, who was killed in the line of duty in November. The city raised $3,330 worth of gift cards.
In a gesture to honor their loved one, Det. Marconi's family donated the cards to Haven for Hope and the Battered Women's and Children's Shelter.
"On behalf of my brother, Dane, and myself; I would like to thank the City of San Antonio employees and the South Texas Blood & Tissue Center on their joint efforts to not only selflessly give blood, but to then turn around and donate their H-E-B gift cards from STBTC to our family in honor of our father," said Jacy Marconi Lewis, Det. Marconi's daughter. "It speaks volumes about the type of amazing people who work for our great city.
"As a token of our personal appreciation, we would like to donate the funds that were gifted to our family to Haven for Hope and the Battered Women's and Children's Shelter. We know so many fall on hard times, and these two organizations are tirelessly trying to make our city even better than it already is. Your donations will help change lives, which is all our dad ever wanted to do. So thank you again to all who participated and donated at the blood drives to honor his memory! From the bottom of my heart, thank you."
Kenneth Wilson, Haven for Hope CEO:
"We at Haven for Hope are truly grateful to the Marconi family for this generous donation. We are humbled to receive such a generous donation from such a tragic event. Our thoughts and prayers continue to be with the Marconi family."
Linda Canizales, director, External and Volunteer Relations, Battered Women's and Children's Shelter:
"The Battered Women and Children's Shelter is so appreciative of the Marconi family's generosity. This donation in honor of Officer Marconi's memory has touched our hearts. Thank you for your kindness and support to continue to help victims of abuse."
SAPD Chief William McManus:
"All of us at SAPD are very touched by this act of kindness from our fellow city employees. In continuing on with Det. Marconi's legacy, their generosity will serve those most in need."
Mayor Ivy Taylor:
"San Antonio is a city where even the most senseless tragedies can lead to wonderful acts of kindness and sharing among our residents. Every day, city employees work hard on behalf of their neighbors; their generosity, and that of Det. Marconi's family, is a true testament to how much we care about each other in our community."
Elizabeth Waltman, chief operating officer, STBTC
"Both the City of San Antonio and the San Antonio Police Department are longtime partners in our mission to save lives through a safe and adequate community blood supply. As a frequent blood donor, Det. Marconi exemplified serving his community, beyond his life's work as a police officer. We were humbled when, at the time of his passing, his family urged people to donate blood because of his belief in our cause. Through the generosity of his family and of city employees, two deserving organizations for which Det. Marconi cared deeply will benefit."
About the South Texas Blood & Tissue Center: The South Texas Blood & Tissue Center (STBTC) is a nonprofit community blood center that provides blood, plasma, platelets and other blood components to more than 70 hospitals in 40 South Texas counties. It is the largest blood supplier in our region. STBTC has a proud 42-year history serving the South Texas community. The center is a subsidiary of BioBridge Global, a nonprofit organization comprising services for regenerative medicine and research including blood banking and resource management; cellular therapy; umbilical cord blood collection and storage; donated human tissue recovery and distribution for transplant; and testing of blood and plasma products to help patients in South Texas, the United States and worldwide. STBTC has seven donor rooms in South Texas and conducts thousands of mobile blood drives each year. Visit us at SouthTexasBlood.org and BioBridgeGlobal.org.