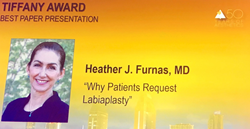 Santa Rosa, CA (PRWEB) May 10, 2017
Plastic Surgery Associates is honored to announce practice founder, Heather Furnas, MD, was recently awarded the Tiffany Award for Best Scientific Presentation of the Aesthetic Meeting 2016. Her paper, Why Patients Request Labiaplasty, was presented at last year's Aesthetic Meeting. The award, from the Aesthetic Society Board of Directors and the Aesthetic Surgery Education & Research Foundation (ASERF), was presented to Dr. Furnas at the 2017 Aesthetic Meeting in San Diego on April 29th.
The Aesthetic Surgery Education & Research Foundation was founded as a way to encourage advancement, effectiveness and safety in aesthetic surgery through collaborative research and education. The ASERF promotes studies, publications and lectures that share knowledge and awareness within the international aesthetic community. To acknowledge those physicians leaving their mark through aesthetic research, the ASERF presents numerous awards each year, including accolades for journal research papers, distinguished service, leadership and journal articles.
The Tiffany Award is presented each year during the ASAPS/ASERF annual meeting. The coveted award is given to the physician or aesthetic professional who offers the most effective and extensive research on a given topic. The Tiffany, a crystal prism on an onyx base, is announced and distributed during the subsequent year's meeting. The 2016 Tiffany Award was given to Dr. Furnas on the first morning of the ASAPS meeting's Scientific Session.
Dr. Furnas was on hand to accept her recognition in-person, as she was presenting on genital rejuvenation during the Premier Global Hot Topics Session. This year, Dr. Furnas and practice co-founder, Francisco Canales, MD, presented their expertise on a variety of cutting-edge innovations in female genital plastic surgery, discussing its role in improving a woman's quality of life. Topics addressed by Drs. Furnas and Canales at the 2017 Aesthetic Meeting included surgical and noninvasive vaginal tightening, noninvasive RF treatment, ThermiVa and Viveve. Additionally, Dr. Furnas was asked to provide the welcome message and introductions at the 4th Annual Women Aesthetic Surgeon's Symposium, also part of the Aesthetic Meeting.
Dr. Furnas is board certified by the American Board of Plastic Surgery. She completed both her undergraduate and graduate degrees from Stanford University, before completing her medical degree at the UCLA School of Medicine. Dr. Furnas then returned to Stanford to complete a competitive, six-year plastic surgery residency. She is a member of the California Society of Plastic Surgeons, the American Society of Plastic Surgeons, and the American Society for Aesthetic Plastic Surgery. In 1992, Dr. Furnas and Dr. Canales founded Plastic Surgery Associates in Santa Rosa, California.
More information on the Aesthetic Surgery Education & Research Foundation, and the recent 2017 Aesthetic Meeting, can be found from the ASAPS. To learn more about Dr. Heather Furnas, the labiaplasty procedure, or to schedule a confidential consultation, contact Plastic Surgery Associates at 707.537.2111. Appointments are available at both Plastic Surgery Associates locations, in Santa Rosa and Novato, California.