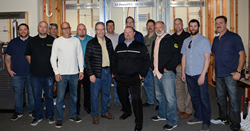 KANSAS CITY, MO (PRWEB) May 10, 2017
Sioux Chief Manufacturing recently hosted a group of plumbing contractors from four California companies at their manufacturing plant in Peculiar, MO.
The visitors were accompanied by local sales reps and were met by the Sioux Chief team for a tour of the manufacturing plant, distribution/warehouse, and a round-table discussion.
"I was very impressed with the entire presentation – I have been to a lot of factories and group discussions but this one honestly was the best one I have
attended" said Chris Robertson of J.W. McClenahan Company in San Mateo, California. "The entire team is very knowledgeable and I love that they will work with contractors and listen to our ideas."
Another visitor, Mike Tobin from Broadway Mechanical of Oakland, especially enjoyed seeing the manufacturing aspect of the company. "I'm a bit of a something." Tobin said. "I also know, coming from a family run business, the impact that having the owners involved and extremely engaged – it does make a difference."
After the tour, members of the Sioux Chief team accompanied the visitors to a Kansas City Royals baseball game, who also played host to a group from California – the San Francisco Giants.