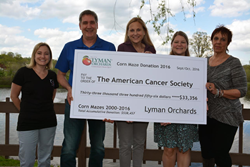 "Lyman Orchards is committed to supporting the American Cancer Society every year." -- John Lyman III, Lyman Orchards' executive VP
MIDDLEFIELD, CT (PRWEB) May 10, 2017
In 2016, The Lyman Family celebrated its 275th anniversary of farming in Middlefield, Conn. In recognition of this milestone, the farm's annual Corn Maze design paid tribute to the family's legacy, providing guests with a lesson on Lyman and American and world history.
From the Maze proceeds, Lyman Orchards made a donation to the American Cancer Society (ACS), an organization whose goal is to foster cancer research and education, as well as provide support to individuals suffering from the disease.
Since creating its first Corn Maze in 2000, Lyman Orchards has donated $1 from each admission to the ACS. The 2016 maze raised $33,356, which was donated directly to the Rocky Hill-based Connecticut chapter of the ACS. With the addition of the 2016 donation, Lyman Orchards has now contributed nearly $540,000 to the ACS.
"Lyman Orchards is committed to supporting the American Cancer Society every year," said John Lyman III, Lyman Orchards' executive vice president. "And by donating a portion of the ticket sales, our customers are part of the donation too. We hope a cure for cancer will soon be found, and in the meantime, positive strides are being made due to the work of organizations like ACS." Lynn Kipphut, community manager, Relay for Life at American Cancer Society, added: "The American Cancer Society is proud to partner with Lyman Orchards to raise funds to reduce the pain and suffering caused by cancer. Partners such as Lyman Orchard are crucial in executing the American Cancer Society's mission of saving more lives from cancer. We commend them for their continued commitment to the community and for their dedication to making an impact in the lives of cancer patients."
This year's Corn Maze will run from Sept. 2 through Nov. 5 and the theme will be announced at a future time. Regardless of its design, the Corn Maze is a fun and unique activity for group visits, corporate events and team-building opportunities, as well as for kids of all ages.
This fall, Lyman Orchards invites you to visit the Corn Maze, which is situated on four acres of soaring corn stalks and contains two miles of pathways to traverse and explore.
The Corn Maze is among many fun activities found at Lyman Orchards. In addition to pick your own seasonal fruit -- from strawberries in the late spring to raspberries, blueberries, pears and peaches in the summer to apples and pumpkins in the fall -- Lyman also features fun family weekend activities such as pony and wagon rides, kettle corn and more. And the Apple Barrel always serves up fresh from the farm fruit, as well as freshly baked treats, breakfast and lunch.
For more information please visit lymanorchards.com.
About Lyman Orchards:
Set on 1,100 acres in the heart of the state, Lyman Orchards (est. 1741) is a popular destination for the whole family in Middlefield, Connecticut. Shop at the Apple Barrel market, filled with fresh farm produce sand Lyman Orchard's award-winning "Hi Top" Apple Pie; celebrate special events and weddings at the Lyman Homestead; enjoy seasonal Pick Your Own fruits and tours of the orchard; golf on two world-class public 18-hole courses designed by Gary Player and Robert Trent Jones, and improve your skills at the Lyman Orchards' Golf Center and Apple Nine Course. For more information, call Lyman Orchards at 860-349-1793, or visit online at lymanorchards.com.