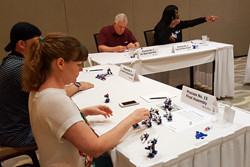 Boston, Massachusetts (PRWEB) May 10, 2017
MC Assembly, a leading electronics manufacturing service provider, recently completed "Incito Man" Lean Enterprise Simulation Workshops at the company's Boston facility. This latest round of training means that now staff in all three of its facilities (Boston, Florida and Mexico) have undergone "Incito Man" Lean training.
Lean manufacturing is a waste elimination philosophy intended to create more value for customers by optimizing the flow of products through the entire value stream. Companies using the Lean philosophy can respond faster to customer requirements and can provide products with higher quality and lower cost.
"Our goal was to get everyone thinking the same when it comes to continuous improvements and Lean initiatives," said Thom Hansen, Director of Operations at MC Assembly's Boston facility. "By doing this training at all three MC Assembly facilities, it re-aligns everybody so we're addressing issues in the same manner."
The staff reported a very positive and engaging experience. Incito is Latin for "insight, inspire and rapid change." Incito's consultants teach LEAN methodologies through a hands-on simulation. 
"Our people picked it up quickly and really enjoyed it," said John Burdett, Production Supervisor of MC Assembly's Boston facility. "By doing the exercises, they found out that through teamwork, planning and proper execution they could accomplish their goal and they were all very proud at the end when they actually completed the task."
Test Engineering Manager Ben Favaloro also took part in the training and says the employees learned a great deal from the lessons and Lean concepts taught.
"The way the process evolved over the day really stuck with the employees as a memorable learning experience," Favaloro said. "The hands-on aspect kept everyone engaged throughout. Overall, it was a very positive experience."
The workshop focused on improving group problem solving skills, team work and efficiency. Instead of just talking about the ideas, the employees acted them out in a simulation where they worked together using Lean principles to produce a product and meet a goal on deadline.
"Incito Man is a great way to get everyone on the same page," said Tom Reed from the Incito Consulting Group. "Training provides lean manufacturing tools to enable employees to understand concepts before using a simulation to apply the lessons to real life situations."
One of the unique training aspects employees appreciated most was a role-playing exercise that helped them gain a greater appreciation and a new understanding of all the roles in the manufacturing process.
"It's a very valuable thing to know and see how we all work together because we don't always get to see that on a day-to-day basis," Favaloro said. "In this training, we got to learn and consider all sides of the spectrum."
Said Burnett: "What I came away with most was the experience of watching our people come together and act as a team. It really hits home when you're a supervisor and you see everybody suddenly working as one unit."
There is already a noticeable difference in employee participation and behavioral changes including a renewed enthusiastic focus on continuous improvement throughout the staff.
"Two things have really popped up because of this training," Hansen said. "First, we're seeing more employee engagement. There's much more of the workforce bringing up ideas as we walk the floor or have our presentations. Second, during our training sessions, the folks who have gone through the training really understand what you're talking about and see what you're trying to achieve when you're bringing out new initiatives."
Favaloro agreed, pointing to an employee suggestion that helped cut board production by five minutes.
"Those kinds of things are very helpful when we try to cut down costs and work more efficiently," he said.
For more information about MC Assembly, please visit http://www.mcati.com.
About MC Assembly
MC Assembly (http://www.mcati.com), based in Melbourne, Fla., with additional operations in Billerica, Mass., and Zacatecas, Mexico, is a national leader in the contract manufacturing arena with annual revenues of approximately $200 million. It provides turnkey solutions to original equipment manufacturers and focuses on assembly of medium volume, medium mix printed circuit boards assemblies (PCBAs) and box builds. MC Assembly's capabilities include surface mount and pin-through-hole interconnection technologies, PCB and box build, DFM, DFT, DFA engineering, in-circuit, functional and environmental testing, and full box-build direct order fulfillment.