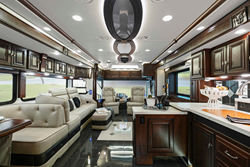 Winnebagos hold up longer and stay in better condition. There's a real difference.
(PRWEB) May 17, 2017
Winnebago is extending its warranty on any new Class A diesel motorhome purchased through August 31, 2017. Called Carefree Diesel Days, the offer extends the warranty on Winnebago "diesel pushers" to three years or 100,000 miles—a significant increase from the standard limited warranty of 12 months or 15,000 miles.
"We believe in our coaches so much that we can confidently make this offer," says Brian Hazelton, Vice President, General Manager of Motorized Business at Winnebago. "We always stand behind our products, but Carefree Diesel Days really demonstrates our superior RVs and the service level that Winnebago Class A diesel owners in particular can expect."
Ranging in size from 35 to 44 feet, Winnebago's diesel motorhomes are the company's most spacious models, and retirees make up their largest purchasing segment.
"When you're retired and making an investment out of known income, the extra confidence of a longer warranty is huge," says Don Cohen, a Winnebago owner and retiree from Denver. "Winnebago RVs have exceptionally high construction quality to begin with, holding up longer and staying in better condition. There's a real difference."
Cohen is the editor of a blog site for Winnebago owners and fans, WinnebagoLife.com. His tips for other retirees span all models of RV living and include:
Think about your travel needs: "What you buy depends on how you're going to use it," says Cohen. "Are you taking short or longer trips, or even traveling full-time? Visiting grandkids or taking them with you? Do you need a 'mobile condominium' with a king-sized bed and washer-dryer, or prefer simpler living? We recommend you rent before buying to try out sizes."
Invest early for the best value: "The more you use your RV, the more favorable your travel costs become," Cohen observes. "If you equate two months in an RV to two months of costs in your other ways of traveling, you can realize savings in the first year. Over time, your vacation budget goes a lot further in a Winnebago."
Find your community: "As you travel, you'll be surprised at the richness of the people you meet, from educators and doctors to small business owners," says Cohen. "There's no place you can't experience and take your RV, whether you're an outdoor adventurer or someone who loves good wine and good food." Cohen cites a growing number of gatherings and online resources catering to RV owners with common interests. "Facebook is a great place to look for people with similar motorhomes and interests. Another site is hitchupandgo.com, which has a directory of dozens of RV blogs.
Cohen acknowledges there's a learning curve to owning a motorhome, but calls it a "fun learning curve," and now that he and Terry have been on the road a good part of five years, it's become their top travel option.
"We like the RV style of traveling," he concludes. "You have everything you need—your stuff and your rhythms. We can do everything we do at home, except when we open up the doors, there's a different view. It's like a second home."
To learn more about the Carefree Diesel Days warranty offer, see your local Winnebago RV dealer. For more information on Winnebago's lineup of popular Class A diesel motorhomes, go to https://winnebagoind.com/product-classes/class-a-diesel.
About Winnebago
Winnebago Industries is a leading U.S. manufacturer of recreation vehicles under the Winnebago and Grand Design brands, which are used primarily in leisure travel and outdoor recreation activities. The Company builds quality motorhomes, travel trailers and fifth wheel products. Winnebago has multiple facilities in Iowa, Indiana, Oregon and Minnesota. The Company's common stock is listed on the New York and Chicago Stock Exchanges and traded under the symbol WGO. Options for the Company's common stock are traded on the Chicago Board Options Exchange. For access to Winnebago's investor relations material or to add your name to an automatic email list for Company news releases, visit http://investor.wgo.net.