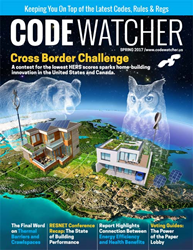 Lake City, Colo. (PRWEB) May 11, 2017
Green Builder Media announces the release of the spring issue of CodeWatcher, a quarterly publication designed to keep building pros on top of the ever-evolving world of building and energy codes, with the goal of using codes as a pathway to moving new homes to net zero ready.
"With buildings representing 40 percent of carbon emissions, it's imperative that we move to adopting tried-and-true building practices that work," says Ron Jones, Code Warrior and co-founder of Green Builder Media. "This issue of CodeWatcher highlights the products and projects that show how this can be done."
Issue highlights include:

Health Upsides of Home Energy Efficiency Measures. New research on how home energy efficiency and health benefits go hand in hand.
Better Than Code: Building officials need to familiarize themselves with this new substrate and textured acrylic finish system as an alternative to stucco.
Cross Border Standout. This New York builder is on a winning streak, delivering ultra-low HERS scores and happy home owners. Check out his winning -11 HERS score custom home from the Cross Border Challenge.
The Power of the Paper Lobby. An inside look at how voting guides impact building code adoption.
The State of Building Performance. A rundown of the annual RESNET Building Performance Conference, including winners of the Cross Border Challenge.
Energy Code Minute. Here's the final word on installing thermal barriers in crawlspaces over spray foam.
CodeWatcher inaugural sponsors include LP Building Products http://lpcorp.com/ and the International Association of Plumbing and Mechanical Officials (IAPMO) http://www.iapmo.org/Pages/IAPMOgroup.aspx
For more information, contact Cati O'Keefe, cati.okeefe(at)greenbuildermedia(dot)com
About CodeWatcher
CodeWatcher is a quarterly magazine devoted to keeping residential building pros on top of changing building and energy codes. Our website includes information on ratings, programs, codes, better building techniques, and houses that show the path to a net zero energy future. http://www.codewatcher.us